With final votes approving the House File 100 marijuana legalization bill in the House and Senate last week, Minnesota is only a governor's signature away from becoming the 23rd state to legalize marijuana and the second, after Delaware to do it this year. And in comments after the legislature sent him the bill, Gov. Tim Walz (D) has made it crystal clear that he will sign the bill into law -- with a "big" ceremony after Memorial Day.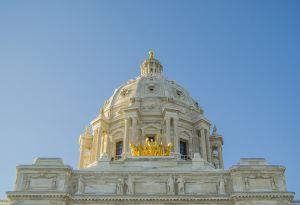 While licensed adult-use legal marijuana sales are months away, marijuana will be legal to possess and home cultivate beginning August 1, and expungement provisions of the law also go into effect then.
"When the bill reaches my desk, Minnesota will become the 23rd state in the nation to legalize adult-use cannabis," Walz said. "It's going to take a while. We have to put the regime into place. We'll have to make sure the licensing stands up. And what we've said is -- what you're going to have certainty about is -- is that you're going to know what the product you're buying is, there's going to be a regulated, safe environment and we're going to be able to stand that up," he vowed.
As for phased legalization, with the August date for the end of pot prohibition and legal commerce beginning after regulators set up a system, "I think the legislature did a smart thing here," Walz said. "I think this is what Minnesotans expect. We've seen it in other states that it worked. We have the advantage of learning from what they did."
The state is moving quickly. The Office of Cannabis Management, which will be the regulator but which has not even been officially formed yet, already has its own web site. It contains information for recreational marijuana users, medical marijuana patients, people who want to get into the industry, and people seeking information about expungements. "We're going to be working on the expungements to get people back to where they should have been, and then we will set up the infrastructure to make sure that we're licensing and regulating the dispensaries," Walz said.
"We've been working on this for about four years, talking to people in Vermont and Colorado. We want to make it a smooth transition. But I think the biggest thing is that, on August 1, just making sure we're not going to spend precious dollars in our policing focusing on possession of cannabis, rather than looking at other crimes we should be working on," he said. "It just takes a little bit of time. We'll implement it. We'll get it in. And I think this is the direction Minnesota wanted us to go."
Under the bill (about to become law), people 21 and over will be able to possess up to two ounces in public as of August 1. They will also be able to grow up to eight plants at home, four of which can be in flowering, and they can possess up to two pounds of the fruits of their harvest at home. People can also transfer up to two ounces without remuneration to other adults.
Also beginning August 1, certain misdemeanor marijuana records will be automatically expunged. A new bureaucratic entity, the Cannabis Expungement Board, will also consider some marijuana felonies for relief, including potential sentence cuts for those still behind bars.
The legal marijuana commerce is expected to take between a year and 18 months to get up and running with licenses issued and sales underway by then. Existing medical marijuana dispensaries will be able to get combination licenses to compete in the adult use market as of March 1, 2025.
Cities and counties cannot ban legal marijuana businesses, but they can impose "reasonable" regulations. They can also chose to operate their own dispensaries, like a state liquor store.
Retail marijuana sales will be taxed at 16.875 percent, which adds a 10 percent pot tax to the state's 6.875 percent sales tax. Four-fifths of marijuana tax and fee revenue will go to the state's general fund, with some funds earmarked for grants to marijuana businesses and drug treatment efforts. The other 20 percent will go to local governments.
The law will also allow onsite consumption for special events, as well as marijuana delivery services.
The new law will attempt to address equity concerns by scoring applicants higher if they live in low-income neighborhoods, have marijuana convictions or family members with them, or are military veterans with less than an honorable discharge because of a marijuana-related offense.
The National Organization for the Reform of Marijuana Laws (NORML) is liking what it is seeing in the Land of 10,000 Lakes.
"The majority of Minnesota voters support repealing marijuana prohibition and replacing this failed policy with legalization and regulation," NORML's Deputy Director Paul Armentano said. "Passage of this legislation is the result of years of grassroots activism by consumers and stakeholders, including Minnesota NORML. In fact, the impetus for the formation of Minnesota NORML was based upon a police raid and resulting marijuana arrest. These sorts of destructive actions are now poised to come to an end in Minnesota."
And perhaps that can be a lesson to the state's prohibitionist neighbors in the Dakotas, Iowa, and Wisconsin.