Pot isn't the only thing you can buy in some Los Angeles-area pot shops, overdose deaths appear to have plateaued last year, and more.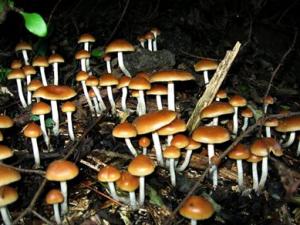 Psychedelics
Los Angeles Pot Shops Are Openly Selling Magic Mushrooms. Some Los Angeles-area marijuana retailers are openly selling psilocybin mushrooms even though they remain prohibited under state and federal law. (A measure that would decriminalize them, Senate Bill 58, is currently before the legislature.) The sellers are responding to high demand for the popular psychedelics.
In one Los Angeles County shop visited by the Los Angeles Times, customers must hand over their drivers' licenses to a receptionist and put away their cell phones before being buzzed into a secured room to check out the psychoactive wares. A large glass jar is "filled to the brim with stubby mushrooms, which have brown caps and psilocybin's characteristic bluish tint," while other jars filled with "mushroom-infused" liquids are also on offer. As are chocolate bars with magic mushrooms and magic mushroom gummies.
The flouting of the drug laws is not without risk. The LA County Sheriff's Department says it has served search warrants at about 50 pot shops selling magic mushrooms in the last six months alone In April 2022, the department reported making 227 arrests at "illegal marijuana dispensaries" and seizing thousands of pounds of marijuana, as well as "29 pounds of mushrooms."
"They won't typically openly sell them," said Lt. Jay Moss of the Sheriff's Department's narcotics bureau. "They'll usually have a small amount -- two to 10 pounds, I'd say -- of mushrooms, and you have to ask for it because they don't have it on display. They might be somewhere out of view, like in the back. We investigate and serve search warrants at these illegal dispensaries in attempts to shut them down," he said. "The analogy is kind of like whack-a-mole: you shut them down and they reopen in another location."
Harm Reduction
White House Seeks to Prod Naloxone Makers. The Biden administration is seeking to prod manufacturers of the opioid overdose reversal drug naloxone to increase access to the drug and lower its cost. Dr. Rahul Gupta, head of the Office of National Drug Control Policy (ONDCP -- the drug czar's office) "plans to have conversations with manufacturers to share his key principle moving forward: the easier it is for people to access naloxone, the more lives we can save," an ONDCP spokesperson said. The planned meeting is part of Biden administration efforts "to ensure naloxone is both accessible and affordable to everyone who may need it," the spokesperson added.
American health regulators approved an over-the-counter version of Narcan earlier this year. The Food and Drug Administration approved the first generic version of the drug in 2021.
Public Health
Fatal Drug Overdoses Hit Record High Last Year but Appear to Be Plateauing. Drug overdose deaths increased slightly last year after jumping mightily during the coronavirus pandemic, according to new data from the Centers for Disease Control and Prevention (CDC) suggesting that the increase in overdoses is leveling off. The CDC estimates the overdose death toll last year at 109,680, up two percent over the 107,622 deaths in 2021. But the increase is far lower than the 30 percent increase in 2020 and the 15 percent increase in 2021.
"The fact that it does seem to be flattening out, at least at a national level, is encouraging," said Katherine Keyes, a Columbia University epidemiology professor whose research focuses on drug use. "But these numbers are still extraordinarily high. We shouldn't suggest the crisis is in any way over."