It is tough times for the West Coast's small-time legal marijuana growers. In California, they are being battered by low prices, a tax and regulatory environment that favors larger operations, and a thriving black market. Next door in Oregon, small marijuana farmers are facing similar issues and are especially buffeted by falling wholesale prices. The pound of weed that earned an Oregon farmer $1,470 two years ago was going for $696 last month, a more than 50 percent decline since 2020.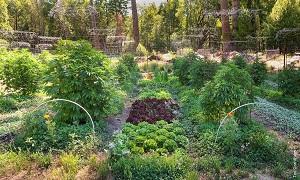 Another obstacle small operators in both states face is being unable to sell their products outside of their own states. Since marijuana remains illegal under federal law, such sales are prohibited. But now, a pair of congressmen representing the two states have filed legislation that seeks to provide some help for beleaguered small growers by removing barriers to interstate sales.
On Wednesday, Reps. Jared Huffman (D-CA) and Earl Blumenauer (D-OR), founder and chair of the Congressional Cannabis Caucus, filed the Small and Homestead Independent Producers (SHIP) Act to allow small farmers and producers to operate across state lines -- once the end of federal marijuana prohibition is achieved. The bill specifically aims to support the smallest family farmers.
The bill says: "A small cultivator of marijuana and a small manufacturer of a marijuana product may ship and sell marijuana or a marijuana product to an individual located in that State or another State in which possession of marijuana or the marijuana product is lawful by that individual, using the Postal Service or any private or commercial 10 interstate carrier."
It defines "small cultivators of marijuana" as those growing less than one acre outdoors, 22,000 square feet of canopy in greenhouse operations, or 5,000 square feet of indoor canopy. "Small manufacturers of marijuana" are defined as those producers of edibles, tinctures, salves, or concentrates who gross less than $5 million per year.
"Too often, the federal government falls behind, and the gears of Congress work too slowly to keep up with the pace of a changing economy," said Representative Huffman in a press release announcing the bill. "Under my bill, folks in our state will be able to ship their products straight to consumers when the antiquated federal prohibition on cannabis is finally repealed. As large, commercial cannabis operations squeeze out local producers from the market, this legislation is critical for farmers to survive and expand their small businesses. We cannot leave our smallest family-farmers behind under full legalization."
Representatives of small growers said being able to sell direct to consumers would be a major benefit for them. The Origins Council, founded in 2019 to promote sustainable development within California's "legacy" marijuana growing regions and to promote appellations for such areas much like the ones adopted by the international wine industry, is on board.
"The direct-to-consumer model is a necessary resource for any small-scale craft-producing community that is deeply tied to the land on which it creates -- whether it produces wine, whiskey, cheese, beer, cannabis, or honey," said Genine Coleman, Executive Director of Origins Council. "The legacy cannabis community that has worked so long in the shadows should have the opportunity to join the ranks of other artisan producers across the United States and enjoy the privilege of connecting personally with their adult customers. As is always true with each step cannabis takes towards legality, the greater community stands to reap enormous benefit in the process."
So are groups representing small marijuana farms in Humboldt, Mendocino, and Trinity counties, California's original Golden Triangle.
"For small craft producers in nearly any context, direct-to-consumer shipping is the critical tool that enables a diversified market to survive and thrive. Cannabis is no different," said Ross Gordon, Policy Director of Humboldt County Growers Alliance (HCGA) and Policy Chair of The Origins Council. "The SHIP Act moves the conversation beyond the question of who can get a license to cultivate cannabis and addresses the practical reality of building an equitable and accessible market for small cannabis producers."
"As a legacy cannabis producer and family farmer located in the heart of the Emerald Triangle, I see the direct-to-consumer retail pathway as the only future of my small farm, and indeed -- of all rural communities like my own whose cultural heritage is rooted in craft cannabis cultivation and artisanal medicine making," said Karla Avila, owner and operator of Flowerdaze Farm in Trinity County and Executive Director of the Trinity County Agriculture Alliance.
The bill is also being endorsed in California by the Mendocino Cannabis Alliance, the Nevada County Cannabis Alliance, the Sonoma County Growers Alliance, and the Big Sur Farmers Association. Outside of California, it's supporters include the Massachusetts' Farm Bug Co-op, the Maine Craft Cannabis Association, the Vermont Growers Association, and the Washington Sun & Craft Growers Association.
But it is not going to happen until marijuana is legalized at the federal level, a prospect looking increasingly dim in this Congress. Whether progress comes in the next Congress will depend to a large degree on the results on November's mid-term elections. If the Democrats can hold the House and increase their numbers in the Senate, the odds are good. If not, not so much.