A Colorado psychedelic initiative needs just a bit more support to get over the top next week, the Missouri marijuana legalization initiative is in the same boat, and more.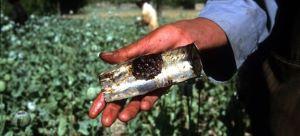 Marijuana Policy
Biden Marijuana Pardons Have Broad Public Support, Poll Finds. A new Monmouth University poll finds broad public approval of President Joe Biden's (D) decision to issue blanket pardons to anyone convicted of simple federal marijuana possession charges. The poll also found broad public support for marijuana legalization, with 68 percent in favor, just one point less than the number of those who supported the Biden pardons. "Polling from a variety of sources shows that support for marijuana legalization has been increasing consistently over the past twenty years. Biden's action is in line with how the vast majority of Americans feel about this issue," said Patrick Murray, director of the independent Monmouth University Polling Institute.
Missouri Poll Has Marijuana Legalization Initiative Leading but Under 50 Percent. The Missouri marijuana polling muddle continues. One recent poll had Amendment 3 with 43 percent of the vote -- not a majority, but a higher figure than those who said they opposed it -- while another poll had the initiative cruising to victory with 62 percent support. Now, the latest poll from Emerson College Polling and The Hill -- the same folks who had the 43 percent poll just weeks ago -- has the initiative again leading but under the 50 percent required to win. This time the poll had support at 48 percent support, with 35 percent opposed and 17 percent undecided. While initiative campaigns would like to see support at 60 percent or so going into the election, or at least above the 50 percent needed to win, if these latest poll numbers are accurate, the campaign would need only to peel away about one out of five undecided voters, and keep the supporters it has now, to emerge victorious next week.
Psychedelics
Colorado Poll Has Psychedelic Initiative Under 50 Percent. The initiative to legalize the possession of psychedelics and create licensed "healing center" where people can use psilocybin under therapeutic supervision, Proposition 122, is trailing slightly according to a new poll, but has gained support since the same poll queried voters in September. The measure has 43 percent support, up from 36 percent in September, but opposition remains higher, increasing from 41 percent in September to 44 percent now. That is a statistical dead heat between "yes" and "no" votes, but still has the initiative below the 50 percent needed to win. Nearly 13 percent of voters remain undecided; the initiative will need to get a majority of those undecideds to get over the top next week.
International
Afghan Opium Crop Up One Third Despite Taliban Ban, UN Says. The 2022 opium crop in Afghanistan is the most profitable in years with cultivation up by nearly a third amid soaring prices, and despite the multiple humanitarian and economic crises facing the country and its Taliban rulers, said the UN Office on Drugs and Crime (UNODC) on Tuesday. The authorities banned all cultivation of opium poppy and all narcotics under strict new laws, in April 2022. This year's harvest was largely exempted from the decree, said UNODC, and farmers in Afghanistan must now decide on planting opium poppy for next year amid continued uncertainty about how the Taliban will enforce the ban. Sowing of the main 2023 opium crop must be done by early November this year.
"Afghan farmers are trapped in the illicit opiate economy, while seizure events around Afghanistan suggest that opiate trafficking continues unabated," said UNODC Executive Director Ghada Waly. "The international community must work to address the acute needs of the Afghan people, and to step up responses to stop the criminal groups trafficking heroin and harming people in countries around the world."