Drug charges account for nearly one-third of all federal criminal prosecutions, Pakistan moves toward licensing medical and industrial cannabis production, Spain moves toward medical marijuana sales, and more.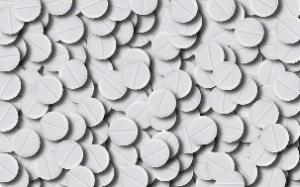 Opiates and Opioids
Supreme Court Rules in Favor of Doctors Accused of Overprescribing Opioids. The Supreme Court on Monday set aside the convictions of two doctors accusing of running opioid "pill mills," making it more difficult for the government to prosecute doctors who overprescribe drugs. In seeking to distinguish between legitimate medical conduct and illegally overprescribing, the court held that prosecutors must prove beyond a reasonable doubt that the doctor knew or intended to prescribe drugs in an unauthorized manner. "We normally would not view such dispensations as inherently illegitimate; we expect, and indeed usually want, doctors to prescribe the medications that their patients need," Justice Stephen G. Breyer wrote for the court. The cases involved a doctor in Alabama whose clinic dispensed nearly 300,000 opioid prescriptions over a four-year period and a doctor who practiced in Arizona and Wyoming who operated mostly on a cash-only basis, but who also accepted property as payment, including firearms.
Sentencing Policy
US Sentencing Commission Quarterly Report Shows Drugs Remain Most Common Federal Offense. Enforcing federal drug prohibition accounts for nearly one-third of all federal criminal prosecutions, according the US Sentencing Commission's latest quarterly report. Drug offenses accounted for 32.3 percent of all prosecutions in the last two quarters, with methamphetamine accounting for nearly half (48.6 percent) of all drug offenses and fentanyl continuing to increase, now accounting for 11.8 percent of all drug offenses. Immigration was the second largest category of federal prosecutions, accounting for 26.5 percent of all federal prosecutions, followed by firearms offenses at 14.9 percent. No other federal crime category accounted for more than 10 percent of federal prosecutions. A decline in prosecutions that took place during the coronavirus pandemic has now ended, with about 5,000 federal drug prosecutions every six months.
International
UN Human Rights Experts Use International Day Against Drug Abuse and Trafficking to Call for End of War on Drugs. UN human rights experts have called on the international community to bring an end to the so-called "war on drugs"and promote drug policies that are firmly anchored in human rights. Ahead of the International Day Against Drug Abuse and Illicit Trafficking on 26 June 2022, the experts issued the following statement:
"Data and experience accumulated by UN experts have shown that the 'war on drugs' undermines health and social wellbeing and wastes public resources while failing to eradicate the demand for illegal drugs and the illegal drug market. Worse, this 'war' has engendered narco-economies at the local, national and regional levels in several instances to the detriment of national development. Such policies have far-reaching negative implications for the widest range of human rights, including the right to personal liberty, freedom from forced labor, from ill-treatment and torture, fair trial rights, the rights to health, including palliative treatment and care, right to adequate housing, freedom from discrimination, right to clean and healthy environment, right to culture and freedoms of expression, religion, assembly and association and the right to equal treatment before the law."
Click on the link above for the rest of the statement.
New Zealand Poll Shows Most Support Replacing Punitive Drug Laws with Health-Based Approach. A new poll produced by The Navigators on behalf of the NZ Drug Foundation finds that a solid majority of New Zealanders support replacing the 1975 Misuse of Drugs Act with a health-based approach. Some 68 percent of respondents favored the change. A strong majority -- 61 percent -- also favored drug decriminalization and introducing more support for education and treatment. The poll also showed that there is strong support for more funding to be provided for treatment and education (82 percent) and harm reduction initiatives like drug checking (74 percent).
Pakistan Moves to Allow Cannabis Farming for Medical and Industrial Use. The Ministry of Science and Technology will form an authority to regulate and facilitate the farming and use of cannabis, or "Bhang," as it referred to in the country. The authority will issue 15-year licenses for industrial, medical, processing, research, and development purposes. The Department of Commerce will issue licenses for cannabis exports.
Spain Moving Toward Allowing Medical Marijuana Sales in Pharmacies. A subcommittee in the Congress of Deputies has accepted a draft bill to regulate medical marijuana sales and referred the bill to the Commission on Health for a vote this week. While the proposed bill has very tight distribution rules, it is being lauded as the first step toward providing greater access. Once the bill is approved by the Health Commission, the Spanish Medicines Agency will have six months to draft appropriate regulations. The draft bill will make THC-containing flowers available by prescription for the treatment of specified illnesses and conditions.