New York lawmakers attempt a crackdown on grey market pot shops, the governor of the US Virgin Islands wants marijuana legalized now, and more.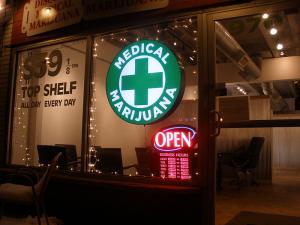 Marijuana Policy
New York Senate Approves Bill to Crack Down on Illicit Marijuana Possession and Sales. The Senate this week approved Senate Bill 9452, which would expand the state Office of Cannabis Management's authority to seize illicit marijuana and the Department of Taxation and Finance's authority to civilly penalize people for selling marijuana illegally. The bill is aimed at "grey market" operators -- retail outlets that are selling weed without being licensed. No licenses for pot shops have been issued yet. The bill would make it a Class A misdemeanor for distributors and retailers to sell weed without a license. Fines for possession of illicit marijuana would double to $400 per ounce of flower and $1,000 for each illicit plant.
US Virgin Islands Governor Renews Call for Marijuana Legalization, Plans Special Session to Get It Done. Gov. Albert Bryan If Jr. (D) has included marijuana tax revenues in the Fiscal Year 2022-2023 budget and has said he is planning a special session of the legislature to get it done. He also took aim at one key lawmaker, Sen. Janelle Sarauw (I), for blocking progress on a legalization bill. "It's just totally ridiculous now how long Senator Sarauw has been holding our bill in the legislature," the governor said. "Call her and tell her, 'Why are you holding up this adult cannabis use legislation?' We need to get it done. So we put it in [the budget]. We're going to be calling the legislature into special session. We're gonna give them plenty time to think about it," he said. "But we have a $40 million funding gap this year that we need to fill with different types of funding resources. We want to get that going."
Medical Marijuana
Louisiana Bill to Protect State Employees Who Use Medical Marijuana Goes to Governor. Both houses of the legislature have now approved House Bill 988, which aims to protect state employees from any negative consequences for using medical marijuana. The bill's author, House Rep. Mandie Laundry explained, "This bill provides employment discrimination protections," bill sponsor Rep. Mandie Laundry (D-New Orleans) explained. "It basically means that they can't be precluded from employment or fired just for having a medical marijuana prescription." The bill is now on the desk of Gov. John Bel Edwards (D), who has given no indication of whether he will sign it or not.
New York Senate Approves Bill to Mandate Health Insurance Coverage for Medical Marijuana. The Senate on Wednesday approved Senate Bill 8837, which would require public health insurance programs to cover medical marijuana expenses and clarify that private insurers can do the same. The bill would define marijuana as a "prescription drug," "covered drug," or "health care service" under relevant state codes so that Medicaid and workers compensation would be required to provide coverage. The bill now heads to the Assembly.
North Carolina Senate Approves Medical Marijuana Bill. The Senate on Thursday voted 35-10 to legalize medical marijuana by approving Senate Bill 711, the Compassionate Use Act. That vote was a second reading of the bill, with another vote required next week before the bill is sent to the House, but after today's vote, that is considered a formality. The bill would let patients possess up to 1 ½ ounces of medical marijuana, but does not allow for home cultivation.