An Idaho legislator worried that substitute teachers are selling drugs to kids gets a teacher testing bill out of committee, Tennessee is the latest state to see a fentanyl test strip legalization bill, and more.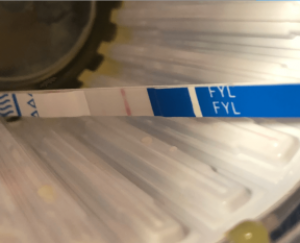 Marijuana Policy
South Dakota Governor Suggests Possible Veto of Marijuana Legalization Bill. Gov. Kristi Noem (R) sounded skeptical of a marijuana legalization bill, Senate Bill 3, which has just passed the Senate, at a Wednesday press conference. Noem did not give a direct answer when asked about the issue, saying "it's hard to talk in hypotheticals," and she's "not in favor of recreational marijuana." She added that, "I still believe I haven't seen anybody get smarter from smoking dope." Voters approved marijuana legalization in 2020, only to see their decision overturned by the state Supreme Court. The activists behind the 2020 campaign are now signature gathering for a new initiative, but say they will desist if a workable legalization bill becomes law.
Opiates and Opioids
Johnson & Johnson, Drug Distributors Reach Settlement Over Opioid Lawsuits. Three of the country's largest drug distributors -- McKesson, Cardinal Health and AmerisourceBergen -- and drug maker Johnson & Johnson announced Friday that they had reached a settlement with the vast majority of states and localities that had sued them over their role in the nation's early-century opioid crisis. The companies have agreed to pay out $26 billion to settle those thousands of claims, with the first checks set to go out in April with at least 85 percent of the payments dedicated to addiction treatment and prevention services. The distributors and Johnson & Johnson released statements Friday morning, noting that the deal is not an admission of wrongdoing and that they strongly dispute the allegations. The distributors said in a joint statement that they believed that "the implementation of this settlement is a key milestone toward achieving broad resolution of governmental opioid claims and delivering meaningful relief to communities across the United States that have been impacted by the epidemic."
Drug Testing
Idaho House Committee Advances Bill Requiring Drug Testing for Substitute Teachers. Ignoring the objections of state school officials, the House Education Committee voted 8-7 Thursday to approve a bill requiring mandatory pre-employment drug testing of all substitute teachers, at a time when school districts are scrambling for substitute teachers. School officials called the proposed law unworkable and noted that districts already have their own drug testing policies. "It is unnecessary, and further, we have a policy at the local level," Karen Pyron, superintendent of the Butte County School District, told the committee. "It adds cost and inconvenience and an additional burden to our rural schools," she said. But bill sponsor, Rep. Judy Boyle (R-Midvale) retorted that she had "tremendous concerns." Substitute teaching "is a very easy way to access children and sell drugs to them," she claimed. Her reasoning prevailed in the narrowly divided committee, and House Bill 651 now heads for a House floor vote.
Harm Reduction
Tennessee Fentanyl Test Strip Bill Filed State Sen. Richard Briggs (R-Knoxville) has filed a bill to legalize fentanyl testing strips, Senate Bill 2427. They are currently considered drug paraphernalia under state law. "SB 2427 is very important for Tennessee, especially East Tennesse, where we've had a very large number of deaths from drug overdoses," said Briggs. "This bill legalizes a tool that can help save lives from drug overdoses in our state." The bill would sunset after three years unless it was renewed. The House Criminal Justice Committee is set to discuss the bill on March 2.