Another Texas poll has solid majority support for marijuana legalization, cartel violence flares in Mexico, and more.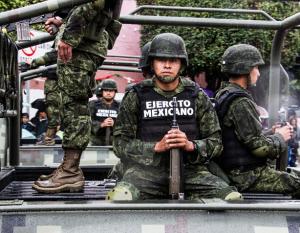 Marijuana Policy
Another Texas Poll Has Majority Support for Marijuana Legalization. A new poll from the Dallas Morning News and the University of Texas at Tyler has support for marijuana legalization at 55 percent. Support is even higher for medical marijuana at 72 percent. Legalization had the support of 65 percent of Democrats 63 percent of independents, but only 43 percent of Republicans. Recent state polls have consistently had majorities for legalization, but one poll released late last year had support even higher at 67 percent. Regardless of popular support, marijuana legalization has made no progress in the GOP-dominated state legislature.
Psychedelics
California Psychedelic Decriminalization Bill Dies. State Sen. Scott Wiener (D-San Francisco) is walking away from his bill to decriminalize the possession of some psychedelics, Senate Bill 519, after it was amended in committee to delete the language decriminalizing psychedelics. "I've now confirmed that SB 519 -- decriminalizing possession and use of small quantities of certain psychedelic drugs -- was amended by the Assembly Appropriations Committee to remove the decriminalization aspect of the bill," Wiener said. "(SB 519) is limited to a study. While I am extremely disappointed by this result, I am looking to reintroducing this legislation next year and continuing to make the case that it's time to end the War on Drugs. Psychedelic drugs, which are not addictive, have incredible promise when it comes to mental health and addiction treatment. We are not giving up."
International
Mexico's Coahuila State Sees Clashes Between Security Forces, Cartel Gunmen. Mexican security forces killed seven members of a drug cartel Sunday after a convoy of cartel trucks rolled into the town of Villa Union and attacked the city hall on Saturday. Soldiers killed seven more cartel gunmen Saturday. The clashes also left four police officers and two civilians dead. Bullet-riddled trucks left abandoned on the streets carried the initials CDN, the Spanish initials for the Cartel of the Northeast.
Mexican National Guard Troops Swarm Tijuana After Cartels Shut Down City Friday Night. Armed and hooded men believed to be cartel operatives caused mayhem across the city Friday night, burning at least 15 cars and buses in the city and using them to block roadways. Nine more vehicle fires were reported in nearby in Mexicali, Rosarito Beach, Tecate and Ensenada. At the same time, The Jalisco New Generation Cartel declared it was implementing a curfew in the city. Now, the Mexican government has sent in 3,000 National Guard troops to restore order.
Mexican Cartel Wreaks Havoc in Guanajuato and Jalisco After Mexican Army Raids Gang Boss Meeting. An army raid at a meeting of drug gang bosses in the state of Jalisco last week has led to revenge attacks in that state and neighboring Guanajuato state. Drug cartel gunmen burned more than two dozen convenience stores and blocked roads with burning buses in a number of municipalities across the two states. President Andres Manuel Lopez Obrador said the initial raid had led to a shoot-out between police and gang members "this provoked protests of burned vehicles, not only in Jalisco, but also in Guanajuato." The US Consulate in Guadalajara warned Americans that: "Local authorities and media are reporting multiple road blockades, burning vehicles, and shootouts between Mexican security forces and unspecified criminal elements in various parts of the Guadalajara metropolitan area."
Mexican Troops Head to Ciudad Juarez After Cartels Clash in Deadly Prison Riot. Hundreds of Mexican soldiers were deployed to Ciudad Juarez Friday after a prison battle and shoot-outs between Los Chapos -- members of the Sinaloa Cartel -- and local gang Los Mexicles left 11 dead, most of them civilians, a day earlier. In the prison riot, two Mexicles were shot and killed, and afterwards they rampaged through the city, killing nine civilians including four employees of a radio station.