A pair of northern California cops preyed like vultures on traffic coming from the state's marijuana producing regions, a trio of South Carolina head for federal prison over their dirty doings, and more. Let's get to it: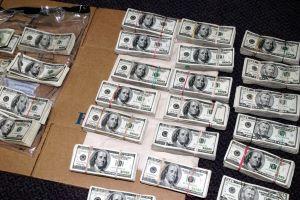 In St. Louis,
a former St. Louis police officer was arrested November 2 (but the charges remained unpublicized until this week)
with illegally searching a man, accusing him of dealing drugs, and stealing more than $200 in cash from his backpack -- all while off duty. Kevin Baroni, 35, is charged with theft and misdemeanor kidnapping for chasing the victim down, cornering him in an alley, and then taking his money. The criminal charges only came to light after the victim filed a civil lawsuit last month.
In San Francisco, two former Rohnert Park police officers were arrested last Friday on charges they engaged in a years-long scheme to pull over travelers on Highway 101 and steal their cash and marijuana. Brendon Jacy Tatum and Joseph Huffaker were assigned to Rohnert Park's drug interdiction team at various times between 2015 and 2017, but a number of drivers they stopped had paperwork to document that they were transporting legal marijuana and Tatum and Huffaker seized their marijuana or cash anyway, without reporting the seizures or turning in the seized items. They are now facing federal corruption charges of conspiracy, extortion, falsification of records and tax evasion.
In Columbia, South Carolina, three former Orangeburg County sheriff's deputies were sentenced Monday to multi-year federal prison terms for their role in a narcotics conspiracy. Former deputies Carolyn Colter Franklin, 64; Allan Hunter, 52; and Nathaniel Miller Shazier, III, 29, went down for conspiring with people they believed to be members of a Mexican drug cartel but were actually undercover FBI agents. The three agreed to help protect trucks containing what they believed were drug proceeds derived from narcotics distribution and they agreed to help protect trucks containing kilogram quantities of mefthamphetamine and cocaine in the future. The three are the last of six Orangeburg County law enforcement officers to be sentenced to prison in the FBI sting, dubbed "Operation Iceberg," which also snared a security guard.