A trio of North Carolina deputies get nailed for unlawfully seized a suspected drug dealer's car, a sticky-fingered Arkansas sheriff's lieutenant gets stung, and more. Let's get to it: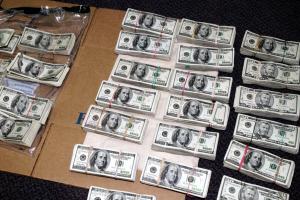 In Nashville, North Carolina,
a Nash County jail guard was arrested Monday
after being caught trying to smuggle suboxone into the jail. Guard Chaka Johnson was found with Suboxone, a drug used to treat opioid dependence, on him as he arrived at work. He is charged with possession of a controlled substance in a prison/jail premises.
In North Port, Florida, a North Port Police civilian employee was arrested Tuesday after being found in possession of numerous controlled substances. Former Forensic Supervisor Tracy Gold, 48, got caught with 17.8 grams of hydromorphone, 35 grams of oxycodone, and 19.2 grams of hydrocodone, as well as small amounts of alprazolam, triazolam and tramadol. She is facing six felony counts, four for illegal possession of prescription pills and two for having enough pills to traffic drugs.
In Henderson, North Carolina, three Vance County sheriff's deputies were indicted Tuesday on charges they illegally seized a suspected drug dealer's vehicle and then tried to cover it up. Deputies Stephen O'Neal Staton Sr., 52, Purav Jitendrakuma Patel, 25, and Mitch Taybron Pittman, 47, are each charged with embezzlement by a government employee, accessing a government computer to defraud, motor vehicle title fraud and four counts of criminal conspiracy. Staton and Patel also were charged with obstruction of justice, while Pittman also was charged with extortion. The trio stopped a 2007 Cadillac last year and seized the vehicle even though the driver wasn't even charged with a drug crime. All three deputies have been suspended until the case is resolved.
In Port Angeles, Washington, a former state prison guard was sentenced last Thursday to 3 ½ years in state prison for smuggling methamphetamine and other drugs into the Clallam Bay Corrections Center. Alfonso Estriba Cofone, 38, had earlier pleaded guilty to possession with intent to deliver a controlled substance. His sentence includes 24 months for committing the crime while living within 1,000 feet of a preschool. He had received $5,000 for smuggling meth, suboxone strips, and marijuana oil into the prison, and he told the court he did it because his mother was sick with cancer and the family needed money for her care.
In Little Rock, Arkansas, a former Greene County sheriff's lieutenant was sentenced last Friday to two years in federal prison for stealing more than $30,000 in a drug sting operation. Allen Scott Pillow, 56, went down after FBI agents received a tip that he might be crooked and then set up a fake drug scene with $76,000 in cash in a backpack inside a vehicle. The FBI then asked Pillow to investigate and reported only finding $45,600 inside the backpack. The rest of the money was found at Pillow's home. He pleaded guilty to theft of government property.