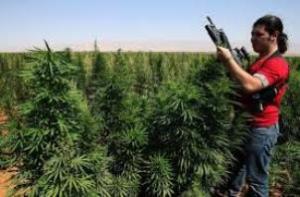 The House votes to temporarily keep fentanyl analogues in Schedule I, the Minnesota pot legalization bill wins an eighth (!) committee vote, and more.
Marijuana Policy
Minnesota Marijuana Legalization Bill Wins Eighth House Committee Vote. A bill to legalize marijuana, House File 600, won its eighth committee vote Thursday, advancing out of the House Education Finance Committee on an 8-6 vote. It still has at least one more committee to clear before heading for a House Floor vote. It now goes to the House Public Safety and Criminal Justice Reform Finance and Policy Committee.
North Carolina Marijuana Legalization Bill Filed. Four House members have filed a bill to legalize marijuana, House Bill 617. "We all know someone or have a constituent that has contacted House Member's offices for help with a relative or friend being jailed for possession of small amounts of marijuana," Rep. Pricey Harrison said. "We took great care in writing this bill to include items to encourage bipartisan support. This bill will ensure appropriate guidelines and restrictions." The bill includes a provision allowing up to 12 plants for personal cultivation.
Virginia Governor Signs Marijuana Legalization Into Law. Marijuana will become legal on July1 after Gov. Ralph Northam (D) signed the bill into law. People will be allowed to possess up an ounce of pot and can grow up to four plants at home. Legal sales will follow once rules and regulations are established.
Birmingham, Alabama, to Issue Blanket Pardons for 15,000 Marijuana Convictions. Mayor Randall Woodfin announced Tuesday that the city will issue blanket pardons for some 15,000 people with misdemeanor pot convictions dating back to 1990. The pardons will be automatic, he said, adding that the move would help people rejoin the work force.
Medical Marijuana
Louisiana Bill to Allow Smokable Medical Marijuana Advances. The House Health and Welfare Committee voted 12-1 Thursday to advance House Bill 391, which would allow medical marijuana patients to smoke their medicine. Louisiana's dispensaries sell medical marijuana in liquids, topical applications, inhalers and edible gummies. But they are barred from offering raw marijuana in smokable form. The proposal heads next to the full House for debate and a vote.
Drug Policy
House Votes to Approve Temporarily Keeping Fentanyl Analogues in Schedule I. With a voice vote, the House on Wednesday approved an extension of an emergency designation that places fentanyl-like substances in Schedule I of the Controlled Substances Act. The emergency designation is set to expire May 6. In both the House and Senate, there are various bills extend the scheduling of fentanyl analogues for varying lengths of time. This vote gives legislators some time to reach a more permanent agreement. Organizations have criticized the designation as effectively extending the use of mandatory minimum sentencing -- which President Biden has said should be abolished -- and circumventing the science-based process intended to be used in drug scheduling.
Drug Testing
Michigan Senate Approves Bill to Ban "Drug Masking" to Defeat Drug Tests. The state Senate on Wednesday approved Senate Bill 134, which would criminalize using someone else's urine or taking a pill or vitamin to mask the presence of drugs in one's system. The bill makes the offense a misdemeanor punishable by up to a year in jail.
Sentencing
Illinois House Approves Bill to Defelonize Drug Possession. The House on Wednesday approved a bill that would turn drug possession felonies into misdemeanors, House Bill 3447. "This approach not only strengthens communities across Illinois but addresses fundamental problems in our criminal legal system, rejecting decades of failed policy under the moniker of the War on Drugs," said Ben Ruddell, criminal justice policy director with the ACLU of Illinois. "We know that taking a proven public health approach to reducing harms associated with drug use will benefit everyone in the State of Illinois."
International
Lebanese Farmers Turn to Hash Amidst Economic Crisis. Buffeted not only by the coronavirus pandemic but also by the country's deep economic crisis, farmers who for years grew potatoes and other crops are now turning to hashish. "It's not for the love of hashish", explained one farmer. "It's just less expensive than other crops... and allows you to live with dignity."