For the second time in as many years, the House of Representatives passed the Secure and Fair Enforcement (SAFE) Banking Act (H.R. 1996) on Monday. The bill is designed to allow state-legal marijuana businesses access to banking and financial services. The bill would bar federal regulators from imposing civil or even criminal penalties on financial institutions that serve those businesses.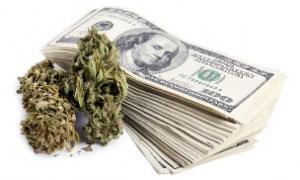 In an indication of broad political support for normalizing marijuana, the bill was approved on a bipartisan vote of a
321 to 10
1
, with 91 Republicans and one Independent joining with the Democratic majority. It is not at all clear, however, whether any Republicans in the Senate can be persuaded to follow the lead of their House colleagues when they are presented with a chance to vote on companion legislation,
S. 910
, in the evenly-divided Senate.
Still, the measure is endorsed by a wide variety of groups, including the National Association of State Treasurers and governors from 21 states and territories.
The bill was authoredby US Rep. Ed Perlmutter (D-CO), who has been introducing it since 2013, sponsored by Reps. Nydia M. Velázquez (D-NY), Steve Stivers (R-OH), and Warren Davidson (R-OH), and cosponsored by 180 members.
"After years of bringing up this issue, I'm thrilled to see overwhelming support for this bipartisan, commonsense legislation in the US House once again. I feel optimistic about the path forward for the SAFE Banking Act and, more broadly, reforms to our federal cannabis laws," said Perlmutter in a statement after the vote.
"Congress needs to act in order to catch up with the will of the majority of voters across this county and to ensure we are reducing the public safety risk for our constituents and communities," he continued. "I look forward to working with [Senate cosponsors] Senators Merkley and Daines to get the SAFE Banking Act passed in the Senate and signed into law."
For years, state-legal marijuana businesses have been hampered by the lack of access to such business necessities as checking accounts, payroll accounts, and lines of credit because of the financial services industry's fear of running afoul of federal law enforcement. That has required a multi-billion-dollar industry to operate in cash, which poses obvious security problems, as well as depriving banks and other lending institutions access to that capital to invest it productively.
"This bill would finally allow business in states that have legalized cannabis to access to the banking system, just as any other business currently enjoy," said Velasquez. "Doing so will help create jobs in communities throughout America, while stimulating the economy as we recover from the fallout of the pandemic."
"This bill is not about being for or against marijuana, but rather being for the safety and wellbeing of our communities," said Stivers.
The Marijuana Policy Project (MPP) was pleased with the vote.
"This vote marks a meaningful first step in establishing a more equitable cannabis industry and improves the likelihood that other cannabis legislation will advance at the federal level," MPP executive director Steve Hawkins said in a statement.
"Restricting cannabis businesses from accessing financial services creates an unnecessary burden for the industry and limits economic growth," Hawkins added. "If enacted into law, the SAFE Banking Act would strengthen efforts to increase the diversity of the cannabis industry by providing resources for those with limited access to capital and increasing the chances of success for state-level social equity initiatives. Further, it would protect the 321,000 employees directly affected by the cannabis industry's lack of access to financial services."
Now it is up to the Senate. Majority Leader Chuck Schumer (D-NY) is working with Sens. Cory Booker (D-NJ) and Ron Wyden (D-OR) on a full marijuana legalization bill, and there are indications he is concerned that passing more modest reforms before that could undermine that push. But there is also considerable pressure to move on the SAFE Banking Act. Stay tuned.