Hell in the Heartland: Murder, Meth, and the Case of Two Missing Girls by Jax Miller (2020, Berkley Books, (319 pp., $27.00 HB)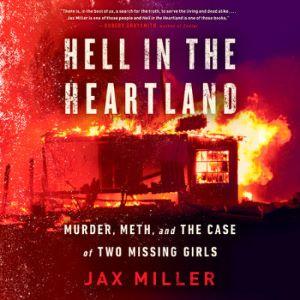 Early on the morning of December 31, 1999, a northeast Oklahoma couple headed to work in the predawn hours spotted a rosy glow on the rural horizon. The glow was turned out to be a mobile home in flames. It was home to Danny and Kathy Freeman and their teenage daughter Ashley, whose best friend, Lauria (not a typo) Bible, was spending the night.
Rural volunteer firefighters arrived to douse the flames of the now-collapsed trailer, followed shortly by a county sheriff's deputy -- and a crowd of curious neighbors gawking from the road. But when firefighters reported finding a body, but no sign of the presumed other three occupants of the home that night, the Craig County sheriff promptly bowed out of the case, handing it over to the Oklahoma State Bureau of Investigation (OSBI). That's because the Freemans had a serious beef with local law enforcement: A Craig County deputy had shot and killed 17-year-old Shane Freeman a year earlier, and now the sheriff feared Freeman had flipped, killing his wife and taking the girls hostage in his rage over his son's death.
And so begins journalist Jax Miller's Hell in the Heartland, a chilling bit of nasty prairie noir that explores an enduring mystery replete with still-missing girls, stunningly incompetent and possibly corrupt police, and a deeply criminal meth-cooking and -using subculture in the forgotten dead end towns and environmental cleanup sites of far northeast Oklahoma, where it butts up against Kansas and Missouri.
Were the local cops really scared of Freeman or, as relatives would later argue, had they eliminated a threat to them? Was the OSBI agent truly clueless -- as he comes off for years in the book -- or was something more sinister going on? In any case, both the deputies and the OSBI managed to miss the charred body of Danny Freeman in the ruins of the trailer, leaving them fruitlessly searching for their "suspect" in the critical first hours after the girls vanished and leaving family members searching the unsecured crime scene for clues to make the gruesome discovery themselves.
That was only the first in a years-long litany of police bungling or seeming indifference toward finding the killers of the Freeman couple and even more shockingly, finding the missing girls. Miller, who began working on the book in 2015, meticulously sifts through the evidence, pointing out misstep after police misstep. The years went by, rumors abounded, and in the meth subculture of the neighboring towns, whispers were heard of Polaroids and videos of bound and gagged girls and a New Year's Eve party where the captive teens were sexually abused and tortured before being murdered and their bodies thrown into one of the numberless pits that dotted the hellish landscape of Picher, Oklahoma, once a lead and zinc mining center, now a toxic wasteland of mineshafts and hills of mineral tailings that is now part of the Tar Creek Superfund site.
Miller shows how police on both sides of the Kansas-Oklahoma line heard those same whispers but failed to put two and two together. People in the meth subculture knew early on exactly who committed these atrocities, but when they said as much to law enforcement, nothing happened. For years. And while there were attempts to tell the cops, the incentive to keep quiet was strong, since those same killers were still around and scarier than ever.
It takes 18 years for Oklahoma authorities to announce an arrest in the case, with most of the legwork actually being done by the parents of the Bible girl, and just this month, one of the three men named as the killers, Ronny Busick, 69, was sentenced to 10 years in prison after pleading guilty to accessory to murder. It is an unsatisfying denouement. The true mastermind of the murder, a maniacal meth-cooking preacher universally described as "evil" by everyone who knew him, died without meeting justice, as did the second henchman. And the girls have still not been found.
Miller excels at evoking the schizophrenic ambience of small-town pastoral rusticity mixed with bedraggled dead-enders cranked out of their heads, and she digs deep, interviewing dozens of people involved, from sheriffs and OSBI agents to current and former tweakers, family members, and townspeople. In those small towns, people know who is up to what, and Miller finds out, too.
Hell in the Heartland is true crime. It doesn't interrogate drug prohibition; it just accepts meth as a social problem. Nor does Miller talk about the history of meth in Oklahoma -- they may not have been smoking marijuana in Muskogee in the 1960s, but there was a trucker/cowboy speed culture tweaking in Tulsa -- or how harm reduction or other policy responses to an underground drug trade might have shaped a reality where teenaged girls don't get raped and murdered over drug deals gone bad. That's too bad, but she at least gets at the underlying social context. At one point, she writes how the good people of one nearby town "expected nothing but trouble from [those] boys, poor boys, boys of angry fathers and neglected mothers."
Hell in the Heartland is a compelling read, a horrifying mystery, still unsatifyingly unresolved. It's a real page-turner that sheds a very creepy light on that little corner of Oklahoma.