Fort Worth, Texas, prosecutors will dismiss minor marijuana charges with one big caveat, Colombia's defense minister says coca eradication is on track, and more.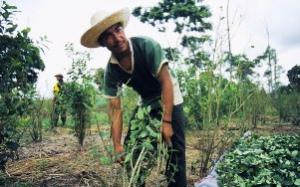 Marijuana Policy
Fort Worth to Dismiss Small Time Pot Cases -- If People Pass Three Drug Tests in Three Months. The Tarrant County (Fort Worth) Criminal District Attorney's Office has announced it will dismiss minor marijuana possession cases, but only if the defendant passes three drug tests in three months. Possession of less than two ounces of marijuana is the most common criminal charge in the county. "One of the goals of the criminal justice system is rehabilitation; sobriety is the beginning of that rehabilitation, "Tarrant County Criminal DA Sharen Wilson said. "When you bring proof of three months of sobriety -- 90 days -- the charge will be dismissed."
San Francisco Bid to Ban Smoking, Including Marijuana, in Apartment Buildings Draws Opposition. City Board of Supervisors President Norman Yee has introduced a measure that would bar people from smoking or vaping tobacco and marijuana in their apartments. The measure would apply to buildings with at least three units. But the move is drawing opposition from progressive LGBTQ groups and medical and recreational marijuana advocates. Yee's plan allows for medical marijuana, but that isn't soothing advocates. A vote before the full board is set for December 1.
International
Colombian Defense Minister Says County Will Meet 2020 Coca Eradication Target. Defense Minister Carlos Holmes Trujillo said Monday that the country will meet its 2020 coca eradication target. The government had set a target of 320,000 acres eradicated and has so far eradicated about 300,000 acres. That's an increase of 30% over last year. The program includes aerial eradication operations involving the probably poisonous substance herbicide glyphosate, and is unlikely to make more than a short-term dent in cultivation.
Mass Grave With At Least 113 Bodies Found in Mexico's Jalisco State. A mass grave in Jalisco state that was discovered on October 2 has now yielded at least 113 bodies. Jalisco is one of the most violent drug cartel battlegrounds in the country and is the home of the most bodies found in clandestine mass graves since 2006, according to a recent government report.