Virginia's governor says he supports marijuana legalization, New Jersey does marijuana and mushrooms decrim in wake of initiative, the White House releases Bolivian coca production estimates, and more.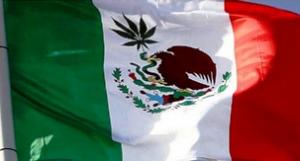 Marijuana Policy
Michigan Man Imprisoned Since 1994 for Selling Marijuana Seeks Release. The Michigan parole board will take up the case of Michael Thompson on Tuesday. He was convicted in 1994 of selling three pounds of marijuana to a snitch and has been behind bars ever since. Given that marijuana is now legal in the state, Thompson's bid for early release has the support of Michigan Attorney General Dana Nessel and the prosecutor's office that convicted him. He has suffered serious health problems in prison, including testing positive for COVID-19.
New Jersey Legislature Approves Marijuana Decriminalization, Magic Mushrooms, Too. The state Senate and Assembly have approved a measure that decriminalizes the possession of up to six ounces of marijuana, and defelonized the possession of magic mushrooms, too. The move is an interim measure until legalization takes place in January after voters approved it on Election Day. It also includes expungement of past nonviolent marijuana offenses.
Virginia Governor Supports Marijuana Legalization. Following the release of a study that found the state could generate $300 million in marijuana taxes, Gov. Ralph Northam said Monday that he supports marijuana legalization. He plans to work with the General Assembly once it convenes in January, but the process could take up to two years to play out. The state decriminalized possession last year.
Medical Marijuana
Pennsylvania Advisory Board Rejects Insomnia as Qualifying Condition. The state Medical Marijuana Advisory Board has refused to add insomnia as a qualifying condition for medical marijuana use. Board members said they hesitated because insomnia is often caused by an underlying medical issue. The board voted 7-4 against adding insomnia last week.
Drug Testing
New York City to Investigate City Hospitals Over Possible Racial Bias in Drug Testing. The City Commission on Human Rights announced Monday that is investigating allegations of racial bias at three top city hospitals over their policies around the drug testing of pregnant women and newborns. Advocates said that Black and Hispanic families are being reported to state child abuse authorities following a single positive drug test, even though, they said, just a single positive test result does not merit a report. The commission cited studies that show Black women are much more likely to be subjected to maternal drug testing than white women, even though both groups use drugs at similar rates.
Foreign Policy
ONDCP Releases Data on Coca Cultivation and Cocaine Production in Bolivia. Last Friday, the White House Office of National Drug Control Policy (ONDCP) released the United States Government's annual estimates of coca cultivation and cocaine production potential for the Plurinational State of Bolivia. According to these estimates, Bolivia remains the third largest producer of cocaine in the world. Bolivia's coca cultivation totaled 42,180 hectares in 2019, an increase of 28 percent over 2018. Commensurate cocaine production potential increased 20 percent to 301 metric tons. The Yungas region remained the largest coca cultivation area in Bolivia, while the Chapare region represents the second largest. Cultivation exceeded the 22,000 hectares limit established by the Bolivian government by an estimated 20,180 hectares, or 92 percent.
International
Mexican Senate Committees Approve Marijuana Legalization Bill with Floor Vote Planned Soon. Last Friday, three Senate committees gave preliminary approval to a marijuana legalization bill, with a formal vote set for this week. The bill would let people 18 and over possess up to an ounce and grow up to four plants for personal use. Advocates are still hoping for further revisions to promote consumers' rights and social equity in the legal market.