Dear reformer:
The pandemic has been hard on ballot initiative campaigns that need to gather signatures to get on the ballot. But there are some important drug policy initiatives that have a real chance of getting their needed signatures, but which need some help.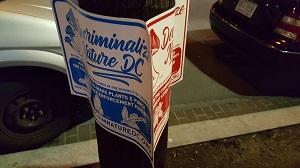 Initiative 81
in the District of Columbia would make enforcement against offenses involving entheogenic plants or mushrooms a lowest priority for law enforcement. Submitted in December to the DC Board of Elections by the group Decriminalize Nature DC, I-81's chances of getting onto the ballot were threatened by when the COVID-19 pandemic hit. Earlier this month, though, the Board of Elections not only approved it for signature gathering, but granted permission for circulators of the initiative to
sign their own petitions
. This means that any DC voter can download, print and sign a copy, and return it to the campaign. The campaign is also mailing copies to people who request it.
Wherever you live, you can help get I-81 onto the ballot through phone banking. Today there's a virtual rally for volunteers with guest Dr. Bronner's Magic Soaps CEO David Bronner. (It might be too late to join today's rally -- I'm sorry we didn't catch today's opportunity sooner, to let you know sooner.)
In Oregon, Initiative Petition 34 to legalize psilocybin mushroom-assisted therapy has also gone to online signature gathering. The campaign is within 10,000 signatures of what they need to qualify for the ballot, but needs your help for the rest too. Again, you can sign if you're an Oregon voter, but you can volunteer to help from anywhere. Please see our action alert for how to get involved.
And if you're helping with Oregon, you can help two initiatives at once. The Drug Addiction Treatment and Recovery Act, IP-44, which would decriminalize illegal substances, needs help with electronic signature gathering too. IP-44 is only 5,500 valid signatures away from qualifying.
This is not a comprehensive list of drug reform initiatives that are trying to move forward despite the pandemic. Many have had to postpone their plans, but a number are still trying. For today at least, those are our suggestions for how to help, and I hope you can.
Sincerely,
David Borden, Executive Director
StoptheDrugWar.org
Washington, DC
https://stopthedrugwar.org