When, in mid-May, House Democrats rolled out the Health and Economic Recovery Omnibus Emergency Solutions (HEROES) Act, H.R. 6800, the latest congressional response to the coronavirus pandemic, they also included a handful of criminal justice and drug policy reforms in the broad-ranging, 90-page, $3 trillion bill. Most of those reforms are aimed at shrinking the prison population in this time of public health crisis, but also on the list is language that would finally allow state-legal marijuana businesses to gain access to banking and other financial services.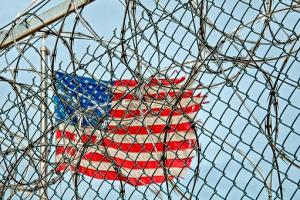 The bill passed the House on Friday, but faces clouded prospects in the Senate.
The spread of the coronavirus within the federal prison system is a real concern. The story of the first female federal prisoner to die of the coronavirus, South Dakota Native American Andrea Circle Bear, brought media attention to the plight of federal prisoners. Sent into the federal system on a two-year drug charge in March, the pregnant Circle Bear came down with coronavirus symptoms within a week, gave birth to a premature baby via c-section while on a ventilator, then died three days later on April 4.
But by then, 31 other federal prisoners had died of the disease. And as of May 14, the federal prisoner death toll had risen to 51, with more than 3,600 inmates infected across the system.
Facing the carceral coronavirus crisis, the Justice Roundtable, a broad-based coalition of more than 100 organizations working to reform federal criminal justice laws and policies, released a set of recommendations for supporting prisoner releases as a public safety response to the pandemic. Those included spending $12 billion on supporting access to housing for released prisoners and another $1 billion incentivizing states and localities to release prisoners and support critical reentry services, as well as ending federal bans on various forms of assistance for people with criminal records, making Medicaid available before prisoners hit the streets, ensuring that people impacted by the criminal justice system get access to federal relief funds, and spending another $650 million to expand federal workforce and educational programs for former prisoners.
The HEROES Act does not do all that, but in Title II it does provide $250 million for reentry programs and another half-billion for efforts to reduce the spread of the virus among arrestees and prisoners at all levels. There is also another $200 million for the Bureau of Prisons to response to the crisis, with funding for medical testing and services and necessary protective supplies.
And there is more. Incorporating various already existing pieces of legislation, Title XI of the act (Prisons and Jails) is the Emergency Community Supervision Act, which during a declared emergency related to communicable diseases "mandates the release into community supervision of federal prisoners and pretrial detainees who are non-violent and, for instance, pregnant women, older prisoners and detainees, and those with certain medical conditions."
Title XI also modifies probation and supervised release policies to reduce unnecessary in-person contact with probation officers, mandates pretrial release of non-violent defendants without cash bail, and gives federal courts more authority to reduce sentences and order compassionate release for prisoners, with a special provision for elderly prisoners.
On another important drug policy front, the HEROES Act incorporates wholesale the SAFE Banking Act, which provides much needed access to the banking and financial services sector for the state-legal marijuana industry. Republicans are already sniping at that, with Senate Majority Leader Mitch McConnell complaining about a provision that would fund studies about diversity and inclusion in the industry.
"There's a lot in this bill," said Kara Gotsch, who heads up federal advocacy for the Sentencing Project, a Washington, DC-based criminal justice reform group and member . "What's critical is to address the inability to do social distancing within correctional facilities," she said.
"We've had a huge spread of the virus in prisons -- not just federal, but state and local, too. Letting those people out into home confinement is critical not just to their health, but also for the health of the people who might stay behind. It creates space, an opportunity to follow the guidelines," Gotsch continued.
The HEROES Act is the work of House Democrats, and while it passed the House, that's only half the battle. In what is certain to be a titanic political struggle, Senate Republicans are pondering their own version of yet another massive coronavirus relief package. In such a huge -- and hugely important -- struggle, the fate of some federal prisoners and legal marijuana entrepreneurs may not loom large, but it hangs in the balance.
"It's clear that McConnell doesn't have the same sense of urgency to move another stimulus package, but I think the pressure is going to increase on the Senate to take some action," said Gotsch. "This pandemic and its consequences are not going away, and the consequences are severe -- more and more people are likely to be infected and lose their lives."
And that means Gotsch and the other criminal justice reform advocates will be hard at work in the coming weeks to see that as many of the House-passed reform measures make it into the final bill as possible.
"I'm hopeful we could see the Senate moving in June, and as far as our priorities are concerned, I'm hopeful we'll can get some of those provisions in the final package," said Gotsch. "We'll be taking the next few weeks to talk to and educate Senate offices. Federal judges are growing increasingly frustrated with the Justice Department's obstruction on compassionate release and its stinginess on home confinement, which is having a disastrous effect. Our goal is to get the word out to Senate staff to make them aware of how dire the situation really is."
She pointed to the sad story of Andrea Circle Bear.
"I think that galvanized a lot of people," said Gotsch. "She puts a human face on the concerns we've been trying to articulate about the tragic circumstances the prisons are facing. With more education and as these tragic stories come to light, I think we'll be able to get some change."