It looks like there will be a fight over marijuana provisions in the HEROES Act coronavirus relief bill, an Oklahoma pot breathalyzer pilot project bill passes the House, another member of the Honduran political elite is tied to drug traffickers, and more.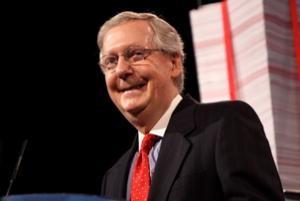 Marijuana Policy
Mitch McConnell and Other GOP Lawmakers Slam Marijuana Banking Provisions in Coronavirus Bill. Senate Majority Leader Mitch McConnell (R-KY) criticized marijuana banking provisions included in the latest coronavirus relief package, complaining that Democrats had included funding to study diversity in the industry as part of the bill. McConnell also more broadly attacked the incorporation of language allowing the industry access to banking and other financial services. McConnell's plaints were echoed by several other Republican lawmakers.
Arizona Court Rules Marijuana Initiative Can't Collect Signatures Online The Arizona Supreme Court on Thursday rejected a request to allow online signature-gathering for proposed ballot initiatives, including the Smart and Safe Arizona marijuana legalization initiative. The good news is the initiative says it already has sufficient signatures to qualify for the ballot.
Oklahoma Bill for Marijuana Breathalyzers Passes House. A bill that would allow marijuana breathalyzers to be used for traffic law enforcement across the state has passed the House and now heads to the Senate. The bill would allocate $300,000 for a pilot project with a company that has developed a breathalyzer for marijuana.
International
President of Honduran Congress Linked to Cachiros Drug Cartel: Report. A report from the Central American magazine Expediente Publico details links between the head of the Honduran congress and a major drug trafficking clan, further exposing links between the drug underworld and the country's political elite. President of the National Congress Mauricio Oliva Herrera is named as buying a series of properties in Tegucigalpa from a company linked to a notorious Honduran drug trafficking family known as the Cachiros. Oliva Herrera has confirmed that he will run for president of the country in 2021. The current president, Juan Orlando Hernandez, also a member of the National Party, has also been implicated in drug trafficking scandals.