The initial draft of the Democratic platform calls for not interfering with state marijuana laws but doesn't call for legalization, a North Dakota legalization campaign comes up short, hospitals are warning of IV opioid shortages, and more.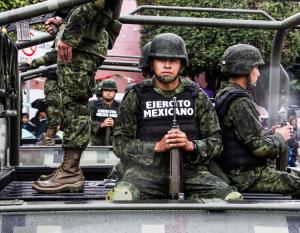 Marijuana Policy
Democratic Draft Platform Does Not Include Marijuana Legalization. The initial version of the national Democratic Party platform, released by the Democratic National Committee's platform drafting panel, calls for allowing states to set their own marijuana laws, but stops short of calling for federal legalization. Various marijuana policy reforms in the draft include decriminalizing cannabis possession, automatic expungement of prior marijuana convictions, federal rescheduling through executive action, legalizing medical cannabis, and allowing states to set their own laws. The draft could still be amended when the full platform committee meets next Monday.
Coalition of Justice and Drug Reform Groups Call on Congress to Legalize Marijuana Amid Coronavirus Crisis. The ACLU, the Drug Policy Alliance, NORML, and Human Rights Watch are among a coalition of civil rights and drug reform groups calling on Congress to pass comprehensive marijuana legalization legislation that emphasizes restorative justice. Calling themselves the Marijuana Justice Coalition, the group says legalization is now especially urgent in the context of the coronavirus pandemic and nationwide protests over police brutality. Given the current situation, "marijuana reform as a modest first step at chipping away at the war on drugs is more relevant and more pressing than ever before," they wrote in a letter to Congress.
North Dakota Legalization Initiative Comes Up Short on Signatures. The campaign to put a marijuana legalization initiative on the November ballot has come up short on signatures. The North Dakota Freedom of Cannabis Act needed some 27,000 valid voter signatures by Wednesday, but had only 24,000 raw signatures to hand in. A second legalization initiative campaign, Legalize ND, came up short earlier. Now, both groups say they are aiming at 2022.
Heroin and Prescription Opioids
Hospitals Say IV Opioid Painkillers Running Short Amid Coronavirus Crisis Because of DEA Quota Policy. One of the biggest hospital groups in the country, Premier, Inc., is warning that intravenous painkillers are in short supply during the pandemic because of the DEA's restrictions on legal opioid production. As part of the federal government's response to the opioid epidemic, DEA has slashed the amount of opioids producers can manufacture over the past two years. That's made them harder to get for everyone, including hospitals. Unless the agency gives hospitals more access to IV painkillers, hospitals will keep running short of the medications needed to help ventilate coronavirus patients and sedate patients before surgery, Premier Inc. wrote in a Wednesday letter to the DEA.
Law Enforcement
DEA Participating in Federal Law Enforcement Surge Aimed at Big Cities. As part of the Trump administration's surge of federal law enforcement in cities including Albuquerque, Chicago, and Kansas City, the DEA will participate in what the feds are calling Operation Legend. "The surge of violent crime in many of our great American cities is unacceptable and cannot be left unchecked," said DEA Acting Administrator Timothy J. Shea. "DEA plays a vital role in combatting violent crime by targeting drug trafficking organizations who employ violence and intimidation to further their criminal enterprise. Violence is an essential element of drug trafficking. Our agents, working alongside our state, local, and federal counterparts, will bring additional resources and specialized investigative skills to help reduce violent crime plaguing so many communities." Shea did not address the role of drug prohibition in encouraging violence.
International
Mexican Human Rights Commission Says Military Abducted 27 People at Border in 2018, 12 Later Found Dead. The Mexican government's human rights commission said Tuesday that Mexican marines abducted 27 people in the border town of Nuevo Laredo in 2018 and that 12 of them were later found dead. The other 15 haven't been seen. The commission more broadly accused the marines of engaging in "illegal searches and arbitrary detentions." At the time, the military was engaged in running battles with the Zetas cartel. The commission issued non-binding recommendations that criminal investigations be opened and changes be made in Navy patrol procedures.
Mexican Border City Sees 26 Killings in 72 Hours. Chihuahua Attorney General Cesar Augusto Peniche said Wednesday that Ciudad Juarez had seen 26 homicides in the past 72 hours and that they can be attributed to a rapidly escalating war between rival gangs fighting for control of the city's drug franchise. The groups at war are the Aztecas and the La Empresa cartel. The latest killings bring the death toll to 969 so far this year in the city.
The Drug Policy Alliance is a funder of StoptheDrugWar.org.