The accelerating field of psychedelic research just got turbocharged. Thanks to a group of private donors, one of the nation's premier universities is moving forward with plans for what's believed to be the first such research center in the country and the largest of its kind in the world.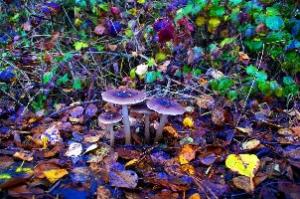 Johns Hopkins University in Baltimore will use $17 million in initial funding to create the Center for Psychedelic and Consciousness Research,
the university announced last week
. The center will focus on the impact of psychedelics on behavior, brain biology and function, learning and memory, and mood.
The move comes as renewed scientific interest in the therapeutic uses of psychedelics has mushroomed in recent years, led to a large degree by Johns Hopkins researchers, who have been at the forefront of psychedelic research in the 21st century.
In 2000, Johns Hopkins researchers made a breakthrough, becoming the first in the country to win regulatory approval to restart research on psychedelics in healthy people who had never used such drugs. That resulted in a 2006 publication on the safety and long-lasting positive effects of a single dose of psilocybin, which jumpstarted a renaissance of psychedelic research worldwide.
Researchers linked to the university have published studies on psychedelics in more than 60 peer-reviewed journals, finding therapeutic benefits for people suffering from conditions ranging from nicotine addiction to depression and anxiety associated with terminal diseases.
Those studies helped pave the way for contemporary studies on the treatment of depression. Other Johns Hopkins research has resulted in safety guidelines for psychedelic research that have helped researchers at other universities around the world win approval for studies, while yet more research has dealt with the thorny problem of measuring how psychedelics affect mystical, emotional, and meditative experiences.
And now, get ready for much, much more. The new center will provide support a half-dozen neuroscientists, experimental psychologists, and clinicians, as well as five post-doctoral scientists -- all with expertise in psychedelic studies. Most of the research is going to center on psilocybin, the psychoactive compound in magic mushrooms.
"The center's establishment reflects a new era of research in therapeutics and the mind through studying this unique and remarkable class of pharmacological compounds," said Roland Griffiths, the center's director and professor of behavioral biology in the Department of Psychiatry and Behavioral Sciences and the Department of Neuroscience at the Johns Hopkins University School of Medicine. "In addition to studies on new therapeutics, we plan to investigate creativity and well-being in healthy volunteers that we hope will open up new ways to support human thriving."
"I am thrilled about this magnificent opportunity that has been provided by enlightened private funders," said James Potash, a professor and director of the Department of Psychiatry and Behavioral Sciences. "This center will allow our enormously talented faculty to focus extensively on psychedelic research, where their passions lie and where promising new horizons beckon."
Because there is no federal funding for such research, private funders have been lined up to cover the first five years of the center's operating expenses. Those funders are the Steven & Alexandra Cohen Foundation and four philanthropists: Tim Ferriss, author and technology investor; Matt Mullenweg, co-founder of WordPress; Blake Mycoskie, founder of the shoe and accessory brand TOMS; and investor Craig Nerenberg.
"We have to take braver and bolder steps if we want to help those suffering from chronic illness, addiction, and mental health challenges," said Alexandra Cohen. "By investing in the Johns Hopkins center, we are investing in the hope that researchers will keep proving the benefits of psychedelics -- and people will have new ways to heal."
The center's faculty will train graduate and medical students who want to pursue careers in psychedelic science, where there have historically been few avenues for career advancement.
"This represents the largest investment to date in psychedelic research, as well as in training the next generation of psychedelic researchers," said Ferriss. "I sincerely hope this ambitious Johns Hopkins center will inspire others to think big and establish more psychedelic research centers in the US and overseas, as there's never been a better time to support such important work."
And a new era dawns.