The House could vote on a series of marijuana amendments soon, New York's bid to legalize marijuana this year runs out of time, Colombia's president says the spraying of coca crops (and farmers) with herbicides will recommence soon, and more.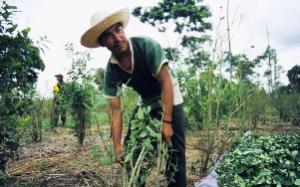 Marijuana Policy
House Rules Committee Sends Marijuana Amendments to Floor Vote. The House Rules Committee approved a series of marijuana amendments on Tuesday, setting them up for a House floor vote. They include a rider blocking the Justice Department from interfering in state-legal marijuana programs, a proposal shielding tribal marijuana laws, and a proposal to let vets receive medical marijuana recommendations from Veterans Affairs doctors. They are all part of an appropriations bill that funds large parts of the federal government.
New York Fails to Legalize Marijuana as Session Ends. The legislative session ended today with lawmakers and Gov. Andrew Cuomo (D) unable to come to an agreement that would allow them to pass the Marijuana Regulation and Taxation Act (SB 1527). Key issues still unresolved included how tax revenues would be spent, whether past marijuana convictions should be expunged, and whether localities could opt out of allowing pot shops or would have to opt in.
Kratom
Oregon Legislature Punts on Regulating Kratom. Lawmakers have mooted a bid to regulate kratom in the state. The Senate Judiciary Committee had amended a series of rules and restrictions on kratom into an unrelated bill in April, but this week, the Joint Ways and Means Committee reversed the earlier action and removed all references to kratom in the bill. That means kratom will remain unregulated -- at least until the next legislative session.
Drug Testing
Maine Repeals Failed Food Stamp Drug Testing Requirement. Gov. Janet Mills (D) on Monday signed into law a bill that repeals the state's controversial and unsuccessful drug testing requirement for Temporary Assistance for Needy Families (TANF) beneficiaries. Since imposed by Tea Party Republican former Gov. Paul LePage in 2015, the program found a total of fewer than ten people who actually tested positive out of thousands forced to submit to the test.
International
Colombia to Resume Aerial Spraying of Coca Crops, President Says. President Ivan Duque has said aerial spraying of coca crops will resume "within weeks," and Defense Minister Guillermo Botero adds that the herbicide glyphosate will be used. But there is an obstacle: The Constitutional Court suspended the practice back in 2015 until the government could convince it the herbicide was safe.