Vermont could yet end up with a regulated marijuana market, Iowa gets ready to grow some hemp, asset forfeiture reform advances in Michigan and North Dakota, and more.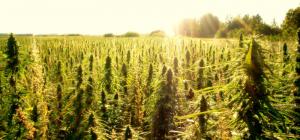 Marijuana Policy
Vermont Democrats Could Compromise on Driver Saliva Testing to Get Legal Sales Bill Passed. Gov. Phil Scott (R) said last week that he would not sign a bill to create a regulated legal marijuana market unless it included saliva testing of drivers, and now Democratic legislative leaders are signaling that they may support the testing, but only if police officers are required to obtain a search warrant before doing the testing. "I don't see any way the Senate would support saliva testing without a search warrant," said Sen. Dick Sears (D-Bennington), chairman of the Senate Judiciary Committee and cosponsor of the bill, SB 54.
Medical Marijuana
New Hampshire Senate Committee Advances Home Grow Option. A bill that would allow medical marijuana patients and caregivers to grow some of their own medicine has passed the Senate Health and Human Services Committee. HB 364 now heads for a Senate floor vote. The House passed a similar bill last month. The Senate bill allows up to three mature plants, three immature plants, and 12 seedlings.
Oklahoma Medical Marijuana Implementation Bill Advances. A key piece of legislation that sets the framework for municipal enforcement of the state's medical marijuana laws has passed the House on the final day for non-appropriations bills to pass. Senate Bill 1030, by Sen. Lonnie Paxton (R-Tuttle) instructs police on how to handle drivers in possession of marijuana without their medical marijuana licenses and sets limits on local zoning laws. The bill also cuts the state excise tax from 7% to 6% and lowers the state sales tax from 4.5% to 1% to give room for local governments to add their own taxes.
South Carolina Medical Marijuana Bill Pushed to Next Year After Flurry of Late Amendments. The Compassionate Care Act, SB 366, is being pushed to next year, the second year of the legislative session, after the Senate Medical Affairs Committee was swamped with a deluge of last-minute amendments, including one that would that would drop herbal marijuana from the bill, instead allowing only oils and creams. "We're in the first year of a two-year process," said bill sponsor Sen. Tom Davis (R-Beaufort). "We have a comprehensive amendment that addresses a lot of concerns that people have expressed. Time is on our side here."
Hemp
Iowa Hemp Bill Passes, Heads for Governor's Desk. The House on Thursday gave final approval for a bill to legalize industrial hemp farming, HF 781. A companion measure has already passed the Senate. Gov. Kim Reynolds (R) is expected to sign the legislation into law.
Heroin and Prescription Opioids
Poll Examines Public Attitudes Over Opioid Epidemic. A new NPR/Ipsos poll examining American attitudes toward the opioid crisis has a slight majority (56%) saying pharmaceutical companies should be held responsible for making the opioid crisis worse, and nearly three-quarters said drug companies should help fund opioid addiction treatment (73%) and distribute naloxone kits (72%). A strong majority (71%) said they were willing to have the government intervene to restrict opioid redistribution, while 66% said they supported more widespread distribution of naloxone. More than one in three (35%) said they had been personally affected, while nearly a quarter (23%) said they knew someone who had overdosed. The survey is not reported to have asked about pain patients' problems with accessing opioid medications.
Asset Forfeiture
Michigan Bills to End Most Civil Asset Forfeiture Pass Legislature. A trio of bills that would end most civil asset forfeiture in the state has passed both houses of the legislature and is now headed for the desk of Gov. Gretchen Whitmer (D), who has signaled she will sign the bills into law. The bills require a criminal conviction before police can keep assets worth less than $50,000 seized in connection with a crime.
North Dakota Asset Forfeiture Reform Bill Passes House Over Sponsor's Objections. The House on Friday approved HB 1286, which reforms the state's asset forfeiture laws, but only after diluting it to such a degree that the bill's sponsor, Rep. Rick Becker (R-Bismarck), ended up voting against it. The bill would require a higher evidentiary standard of clear and convincing evidence for forfeiture, and it includes a provision to not forfeit property worth more than the associated criminal penalty. But it also allows seizure of property if there is evidence "beyond reasonable doubt" of the property's criminal involvement. "It's very, very confusing. It's a very odd loophole," Becker said of the latter exception. "It's putting a criminal proceeding standard into a civil proceeding with no trial."He also criticized the bill's reporting requirements as too weak. "I'm looking at the words in front of me," Becker said. "We had such good opportunity for real reform, and I'm happy to come back in two years and try again."