The military affairs and news web site Task & Purpose has obtained an internal memo from the Department of Homeland Security (DHS) that shows the agency is considering designating the powerful synthetic opioid fentanyl as a weapon of mass destruction (WMD) "when certain criteria are met."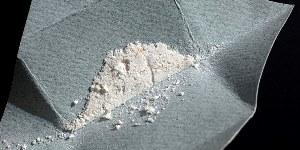 Typically produced in China and then smuggled through Mexico or sent directly to the US via package delivery services, fentanyl has been implicated in
tens of thousands
of drug overdose deaths in recent years. The drug is doubly dangerous because not only is it dozens of times stronger than heroin, it is all too often mixed in with other drugs so that consumers ingest it unwittingly.
The memo obtained by Task & Purpose was dated February 22, 2019 and titled "Use of counter-WMD authorities to combat fentanyl." It was prepared for then-DHS Secretary Kirstjen Nielsen by DHS Assistant Secretary for Countering Weapons of Mass Destruction James F. McConnell, who sketched the background of the drug and noted how some members of the federal government see it as a potential "mass casualty weapon."
McConnell is a long-time homeland security official who has led the Countering Weapons of Mass Destruction office since he was appointed by President Trump in May 2018.
"Fentanyl's high toxicity and increasing availability are attractive to threat actors seeking nonconventional materials for a chemical weapons attack," he wrote. "In July 2018, the FBI Weapons of Mass Destruction Directorate assessed that '...fentanyl is very likely a viable option for a chemical weapon attack by extremists or criminals'," he wrote.
But other parts of the memo suggest DHS is considering the move not only as part of a war on fentanyl but as a means of obtaining more funding for the agency's WMD activities. Indeed, funding for the counter-WMD program has declined under Trump, whose homeland security priorities are focused on the US-Mexico border, despite crime rates at the border being lower than in other parts of the country.
"[Counter-WMD] Office efforts will focus on quantities and configurations that could be used as mass casualty weapons," McDonnell wrote as he tried to sell the idea. "However, many activities, such as support to fentanyl interdiction and detection efforts, would tangentially benefit broader DHS and interagency counter-opioid efforts. Within the past couple years, there has been a reinvigorated interest in addressing fentanyl and its analogues as WMD materials due to the ongoing opioid crisis," he added.
The Counter-WMD office could help in the fight against fentanyl by developing and managing new technologies, deploying sensors, and helping other agencies in the field, McDonnell told Nielsen. He also claimed that senior Defense Department leaders "had proposed formally designating fentanyl as a WMD material."
Neither the Defense Department nor DHS would comment to Task & Purpose on the report, but members of the counter-WMD community contacted by the web site reacted with bemusement and skepticism.
Fentanyl as a WMD is a "fringe scenario," chemical, biological, radiological, and nuclear defense expert Dan Kaszeta reacted. There are "literally dozens" of toxic chemicals that could be easily weaponized, he said.
"This is like declaring ecstasy as a WMD," said another member of the Defense Department's counter-WMD team speaking on condition of anonymity.
"It reads like somebody is laying the administrative background for trying to tap into pots of money for detecting WMD and decontaminating WMD," Kaszeta told Task & Purpose. "It's an interdepartmental play for money, that's all it is."
But McConnell is planning to move ahead. In the memo, he said his office would continue to brief DHS on fentanyl-related counter-WMD efforts and would schedule an interagency planning event on fentanyl.
An unnamed senior Defense official told Task & Purpose that while such a meeting was probably "a good idea," it was far more likely that someone seeking a chemical WMD would instead turn to sarin or mustard gas. "Anybody with a college level degree in chemistry can manufacture chemical weapons agents," he said.
"I cannot see any scenario where a nation-state would use fentanyl on the battlefield, or for that matter, a terrorist using a really toxic chemical like fentanyl in an attack when they could just sell it for funding the purchase of firearms and explosives or steal an industrial chemical instead," the official added.
In that light, McConnell's memo appears more as a cynical bureaucratic exercise aimed at increasing program budgets rather than a serious effort to address homeland security.