The president wants to see criminal justice reform move in the Senate, New Jersey lawmakers take up marijuana legalization today, and more.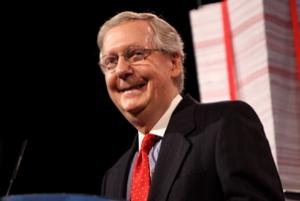 Marijuana Policy
Minnesota Governor-Elect Says Legalize It. Incoming Democratic Governor Tim Walz says it's time for the state to get on the legalization bandwagon. "I just think the time is here and we're seeing it across the country," he said. "Minnesota has always been able to implement these things right." Wise's Democratic allies control the state House, but Republicans control the Senate.
New Jersey Legislature Takes Up Legalization Bill. Hearings are underway at the statehouse for the long-awaited marijuana legalization bill, S2703. The bill would legalize up to an ounce for adults and set up a system of taxed and regulated marijuana production and distribution. The bill sets a 12% tax rate on marijuana sales, which includes the state's 6.625% sales tax, but also would allow localities to seek up to 2% in additional marijuana taxes.
North Dakota Lawmaker Will File Decriminalization Bill. In the wake of November's failed legalization initiative, one lawmaker says he will file a decriminalization bill during the coming legislative session. State Rep. Shannon Roers Jones (R-Fargo) said her bill would probably decriminalize the possession of up to an ounce. Possession is currently a Class B misdemeanor.
North Dakota Initiative Campaigners Will Try Again in 2020. Legalize ND, the folks behind November's failed legalization initiative says it will be back in 2020. Group leader David Owen said he is "100% certain" the group will try again but with some changes. Next time, the proposal will contain provisions for tax revenues from sales and limits on how much individuals can grow and possess. This year's initiative lost 59%-41%.
Law Enforcement
Detroit Narcs Try to Arrest Each Other in Drug Bust Gone Awry. It was Keystone Cops in the Motor City earlier this month when a group of undercover Detroit narcs posing as drug dealers attempted to arrest another group of undercover Detroit narcs posing as drug buyers. The end result: A shouting match and shoving and punch-throwing brawl among more than two dozen armed police officers. "This is probably one of the most embarrassing things I've seen in this department," Detroit Police Chief James Craig said Monday. Two Detroit police officers were killed in a similar incident in 1986.
Sentencing Reform
Trump Urges McConnell to Act on Criminal Justice Reform. In a tweet last Friday, President Trump urged Senate Majority Leader Mitch McConnell (R-KY) to allow a prison and sentencing reform bill, the First Step Act (S.2795) to be voted on in the Senate. McConnell said last week there wasn't time to get the measure through this session, but he has faced intense lobbying pressure, not only from the president but also other Republican senators and the religious right. "Really good Criminal Justice Reform has a true shot at major bipartisan support," Trump said in the tweet. "@senatemajldr Mitch McConnell and @SenSchumer have a real chance to do something so badly needed in our country. Already passed, with big vote, in House. Would be a major victory for ALL!"
International
French National Assembly Approves Fines for Drug Use. The National Assembly last Friday approved a bill that introduces a fixed fine of 200 Euros for the use of drugs, and marijuana in particular. Since 1970, illegal drug use has been subject to up to a year in prison and up to a 3,750 Euro fine, but such sentences were rarely imposed, especially for marijuana. Some ministers on the left criticized the measure as disproportionately affecting poor young people and condemned the lack of involvement of health authorities.
Thai National Assembly Gives Preliminary Approval to Legal Medical Marijuana, Kratom. The National Legislative Assembly has accepted "in principle" amending the country's drug law to allow for the medicinal use of five substances, including marijuana and kratom. Under the amended law, the Office of the Narcotics Control Board will be assigned to designate areas to be used for the production of the drugs and the quantity to be produced.