New Orleans resident Keeven Robinson, 22, died after being arrested by Jefferson Parish narcotics officers last week. Police originally tried to blame his death on asthma, but now the Jefferson Parish coroner is telling a very different tale.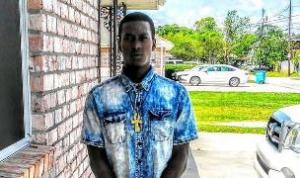 At a press conference Monday, Coroner Gerry Cvitanovich laid out what initial autopsy results uncovered: "Our initial autopsy findings reveal significant traumatic injuries to the neck, the soft tissue of the neck," he said. "These findings are consistent with compressional asphyxia. We are confident that at the end of our process, this is going to be the cause of death. Regarding manner of death, at this point, manner of death is homicide."
Cvitanovich was quick to point out that when he said "homicide," he did not mean in the legal sense, but in the sense that Robinson died as a result of the actions of others.
According to the sheriff's office, four undercover narcotics deputies, who Sheriff Joe Lopinto did not name but identified as white, were surveilling Robinson, a black man, as part of a drug dealing investigation and followed him to a gas station on Jefferson Highway late last Thursday morning.
When Robinson noticed the agents, who wore badges, approaching him, he attempted to drive off, but jumped from his car about a block away after running into two sheriff's vehicles. The narcs pursued Robinson in a foot chase as he leaped over fences before catching him in the back yard of a residence.
Again, according to the sheriff's office, the deputies then struggled with Robinson, who was carrying what they suspected to be heroin, before they managed to handcuff him. At that point, he stopped breathing. He was rushed to Oshsner Medical Center nearby, but died there.
Jefferson Parish sheriff's deputies do not wear body cams.
Robinson was not armed, though Sheriff Lopinto said a gun was found in his car.
Lopinto originally said investigators were looking into whether Robinson's history of asthma contributed to his death, but his family immediately expressed skepticism about that possibility. They said they feared the narcs had either beaten or strangled him to death.
And the coroner's report is proving them correct. Jefferson Parish NAACP President Gaylor Spiller said she was pleased the coroner's office issued a ruling on Robinson's death so quickly and that "there was no cover up."
But Spiller was speaking prematurely. The investigation into the killing of Keeven Robinson is just getting started, and the inevitable finding that no one is criminally responsible is still months away. Call me cynical , or call me a student of what happens when police kill people.
In this case, an unarmed black drug suspect was choked to death by four white narcs. Who wants to bet on any of them being charged with a crime?