New research suggests that different classes of psychedelic drugs all share the tendency to promote the growth of new brain cells, especially the kind that reach out and forge connections with other brain cells. This finding could help explain both the mind-expanding properties of the drugs and the mechanisms by which they appear to act as valuable treatments for a broad range of psychiatric disorders.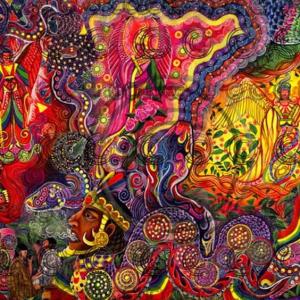 Earlier research had identified the dissociative anesthetic ketamine as promoting growth in key brain cells (as well as being
a fast-acting and effective treatment for depression
), but this new research finds similar effects in amphetamine-based psychedelics such as DOI (2,5-dimethoxy-4-iodoamphetamine), ergoline psychedelics (such as LSD), and tryptamines (such as DMT).
Using experiments in cell culture and with animals, researchers led by Dr. David Olson of the University of California at Davis found that various classes of hallucinogenic drugs acted on the structure and function of cortical neurons using the same mechanisms as ketamine. The findings could point to new treatment approaches for depression, anxiety, PTSD, and addiction, the researchers wrote last Tuesday in the peer-reviewed journal Cell Reports.
"The state-of-the-art, prototypical, fast-acting antidepressant is ketamine -- a compound that promotes neural plasticity and repairs circuits involved in mood and anxiety disorders," Olson told MedPage Today. "Our work demonstrates that psychedelics produce comparable effects on neuronal structure and function, providing a potential explanation for why MDMA, psilocybin, and ayahuasca seem to have antidepressant and anxiolytic effects in the clinic."
Using test tubes, as well as rats and fruit fly larvae, the researchers found that all of these classes of psychedelics increased "neural plasticity," the ability to create new connections among brain cells. The drugs all excited the growth of dendritic spines and axons, the cerebral hangers-on that brain cells use to reach out and create connections, or synapses, with other brain cells.
That's the opposite of what happens with depression, anxiety, PTSD, and addiction. The current theory is that these disorders may occur when neurites retract, not allowing brain cells to connect at synapses.
"One of the hallmarks of depression is that the neurites in the prefrontal cortex -- a key brain region that regulates emotion, mood, and anxiety -- those neurites tend to shrivel up," Olson said in a statement.
Olson's research found that the neural plasticity effect found with ketamine was also "remarkably potent" with even very small doses of LSD, which could help explain the popularity of "microdosing" among people seeking happier and more creative lives. Chemical compounds that mimicked psilocybin and MDMA also increased neural plasticity on the same level as ketamine, and that could mean new opportunities for researchers working with psychiatric disorders.
The studies also showed that the effect outlasted the action of the drugs. In rats, for example, psilocybin produced results that lasted for hours after the drug had left the body. Similarly, rats given a single dose of DMT not only saw an increase in dendritic spines similar to ketamine but saw that effect last for 24 hours when the drug itself had been eliminated within one hour.
This is potentially very good news for researchers working on treatments for anxiety, depression, and addiction, which all seem to act on the same brain circuits.
"Prior to this study, there was only one player in town and that was ketamine. This opens up some new doors," Olson said. "As the diversity of chemical structures capable of producing ketamine-like plasticity effects continues to grow, so does my hope that we will find a safe and effective fast-acting treatment for depression," he said.
This article was produced by Drug Reporter, a project of the Independent Media Institute.