A legalization bill fails in Arizona, another one sputters in Connecticut, a bad batch of synthetic cannabinoids is wreaking havoc in Illinois, and more.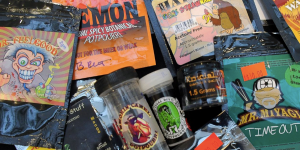 Marijuana Policy
Arizona Legalization Fails Dies in Statehouse. There will be no legalization via the legislature in Phoenix this year after lawmakers refused to act on a measure that would have put the issue before the voters. HCR 2037 had been assigned to three different committees, but never got any action in any of them. Sponsors Reps. Todd Clodfelter (R-Phoenix) and Mark Cardenas (D-Phoenix) vow to try again next year.
Connecticut Legalization Bill Gets Committee Hearing. The House Finance, Revenue and Bonding Committee held a hearing on a legalization bill, House Bill 5582, on Monday, making it the fourth committee to hold a hearing on marijuana legalization this session. But the bill is unlikely to pass this year since one committee has already rejected it and another will not be voting on whether to advance it. At the hearing, the Office of Fiscal Analysis reported that the state could expect tax revenues from pot at between $30 million and $63 million, depending on the tax model used.
Albuquerque City Council Votes to Decriminalize Marijuana Possession. City council members voted Monday night on a party line vote to decriminalize the possession of up to an ounce of marijuana. Offenders would be hit with a $25 fine on a first offense. A similar measure passed in 2015, only to be vetoed by the mayor. But now there's a new mayor, so stay tuned.
New Psychoactive Substances
Illinois Sees Bad Synthetic Cannabinoids Kill Two, Leave Dozens Bleeding. Synthetic cannabinoids apparently cut with rat poison have killed two people in Illinois and left 56 others experiencing severe bleeding. The bad dope has shown up in Chicago and the central part of the state, the Department of Public Health said Monday.
Asset Forfeiture
Kansas Governor Signs Minor Asset Forfeiture Reform Bill. Gov. Jeff Colyer (R) has signed into law House Bill 2459, which would make small reforms in the state's civil asset forfeiture law. Under the bill, police who seize property will have to report on what they took and how they used the seized property.