Canada's most populous province is going with a state monopoly on legal marijuana sales, the CARERS Act is back, last week's surprise budget deal preserves protections for legal medical marijuana states for a few more months, and more.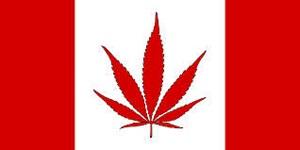 Medical Marijuana
Congressional Budget Deal Preserves Medical Marijuana Protections -- For Now. The budget deal agreed to last week between President Trump and congressional leaders extends federal protections to state-legal medical marijuana programs through December 8. This provides an opportunity for House GOP leaders to rectify their decision last week not to allow a vote on the amendment that for the past four years has blocked the Justice Department from spending federal funds to go after medical marijuana in states where it is legal.
Bipartisan Group of Senators Reintroduce CARERS Act. Sens. Cory Booker (D-NJ), Al Franken (D-MN), Kirsten Gillibrand (D-NY), Lisa Murkowski (R-AK), and Rand Paul (R-KY) refiled the CARERS Act (Senate Bill 1764) last Wednesday. The bill aims to "extend the principle of federalism to State drug policy, provide access to medical marijuana, and enable research into the medicinal properties of marijuana."
Iowa Attorney General Cites Fed Fears to Block CBD from Out of State Dispensaries. The attorney general's office has advised the Department of Public Health not to implement a part of the state's CBD medical marijuana law that would have licensed two dispensaries from bordering states to supply CBD to Iowa patients. "It is possible that state's program may come under increased scrutiny from the federal government," a spokesman told the Des Moines Register, adding that the halt would remain "until the federal government provides further guidance regarding state medical marijuana programs."
Drug Policy
Florida Attorney General Pam Bondi Joins Trump's Drug Task Force. A Republican and Trump supporter, Bondi has been appointed to the Presidential Commission on Drug Addiction and the Opioid Crisis, her office announced last Friday. The other commission members are chairman and New Jersey Gov. Chris Christie (R), Massachusetts Gov. Charlie Baker (R), North Carolina Roy Cooper (D), former US Rep. Patrick Kennedy (D-MA), and Harvard professor Dr. Bertha Madras. The commission is supposed to issue a final report by October 1.
Heroin and Prescription Opioids
New York Congressman Files Bill to Broaden Medication Assisted Treatment. Rep. Paul Tonko (D-NY) has filed House Resolution 3692 to "amend the Controlled Substances Act to provide additional flexibility with respect to medication-assisted treatment for opioid use disorders."
Law Enforcement
DEA Agent's Scandalous Affair Unveiled. A Justice Department inspector general's report released last Thursday revealed one bit of juicy scandal: A DEA agent carried on a wild affair with a convicted drug criminal for five years, and let her listen to active wiretaps, roam the evidence room unattended, and had sex with her in his office and official vehicle. The whole thing unraveled when she got pregnant, he reacted unfavorably, and she ratted him out to superiors. The unnamed agent was originally only suspended for 45 days, but was eventually fired.
International
Ontario Will Only Allow Legal Pot Sales in Government Monopoly Shops. Canada's most populous province announced last Friday that it will open 150 standalone pot shops operated by the Liquor Control Board of Ontario (LCBO), as well as eventually allowing an online order service. Dispensaries that have sprouted up in the province are out of luck: "Illicit cannabis dispensaries are not and will not be legal retailers," the province explained in a news release. "The province will pursue a coordinated and proactive enforcement strategy, working with municipalities, local police services, the OPP and the federal government to help shut down these illegal operations."
Canadian Prime Minister Just Says No to Drug Decriminalization. Prime Minister Justin Trudeau has rejected calls from British Columbia public health and political figures to embrace drug decriminalization as part of a solution to the country's opioid crisis. "We are making headway on this and indeed the crisis continues and indeed spreads across the country but we are not looking at legalizing any other drugs than marijuana for the time being," Trudeau told a news conference in BC last Thursday.
German Poll Finds Solid Majority for Marijuana Legalization. A Mafo Market Research Institute poll has found signs of a rapid shift in support for freeing the weed in Germany. Polls going back to 2001 have had support hovering around 19%, but things began to change around 2014. That year, a poll had 30% supporting legalization. In November 2015, another poll had support at 42%. The new Mafo poll has support at 57.5%.