Marijuana policy continues to motivate members of Congress, a leading drug testing firm reports that positive worker drug tests are on the rise, Maryland's first medical marijuana cultivator gets final approval to grow, and more.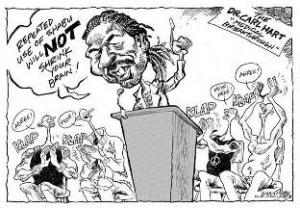 Marijuana Policy
Bipartisan Senate Bill to End Federal Marijuana Banking Ban Filed. Eight US senators running the gamut from Rand Paul (R-KY) on the right to Cory Booker (D-NJ) on the left filed a bill to block federal regulators from punishing financial institutions for doing business with state-legal marijuana-related businesses. The bill is not yet available on the congressional web site.
Lawmakers Push Federal Legalization Bill. US Rep. Thomas Garrett (R-VA) and allies held a Capitol Hill press conference on Wednesday to try to gain some momentum for Garrett's Ending Federal Marijuana Prohibition Act (Senate Bill 1227), which was introduced in February but has gone nowhere so far. Garrett said that he had enthusiastically prosecuted marijuana offenders, but grew tired of "creating criminals out of people who otherwise follow the law." Joining Garrett was another of the bill's 11 cosponsors, Rep. Tulsi Gabbard (D-HI), who said "the question before us is not whether you think marijuana use is good or bad, or how you feel about this issue, but whether we should be turning people into criminals."
Medical Marijuana
Maryland Regulators Grant First Medical Marijuana Grow License. More than four years after the state approved medical marijuana, the state Medical Cannabis Commission voted unanimously Wednesday to grant final approval to the first firm licensed to grow medical marijuana, ForwardGro in Anne Arundel County. "A new industry in Maryland has been launched," said Patrick Jameson, executive director of the commission. "They can start to grow immediately." Fifteen companies were granted preliminary licenses last year, but none of the others have been granted final approval yet.
Drug Testing
Drug Testing Firm Reports Workers' Positive Tests at 12-Year High. Drug testing firm Quest Diagnostics reported Wednesday that 4.2% of drug tests among the US workforce came back positive, the highest rate since 2004, when it hit 4.5%. The firm reported increases in positive results for marijuana, cocaine, and methamphetamine, but heroin remained unchanged. "This year's findings are remarkable because they show increased rates of drug positivity for the most common illicit drugs across virtually all drug test specimen types and in all testing populations," said Barry Sample, senior director of science and technology for Quest Diagnostic Employer Solutions.
International
DPA's Dr. Carl Hart Gets Death Threats, Insults for Speaking Out Against Duterte's Drug War.Neuroscientist and Drug Policy Alliance board member Dr. Carl Hart cut short a visit to the Philippines last week after his remarks challenging Philippines President Rodrigo Duterte's bloody war on drugs, his assertion that methamphetamine use "shrinks the brains," and his openness about his own drug use resulted in hostile ridicule from the president, a racist cartoon in a Manila-based newspaper, and death threats on social media.