Congress will take up several amendments relating to marijuana policy this week, Maine is getting closer to agreement on how to implement legalization, fighting in Colombia's coca country is generating refugee flows, and more.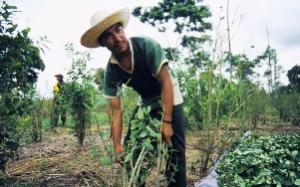 Marijuana Policy
Congress Takes Up Marijuana Issues This Week. The Congress will take up several marijuana-related amendments this week. The House will take up amendments seeking to allow veterans to get medical marijuana recommendations through the Department of Veterans Affairs. A similar measure has already passed the Senate Appropriations Committee. The Senate Appropriations Committee will take up renewing a federal ban on spending to interfere with state marijuana laws. The House version of the amendment has already passed the House Appropriations Committee. And the House Rules Committee will take up an amendment protecting water rights for state-legal marijuana growers.
Maine Lawmakers Near Agreement on Legal Pot Rules. The special legislative panel overseeing implementation of the state's voter-approved pot legalization law has nearly finished its work. It has already agreed to remove the cultivation cap in the initiative and to block regulators from setting limits on cultivators, while adding a six-month state residency requirement for growers and sellers aimed at limiting out-of-state companies from dominating the market. The panel is leaving local control alone, meaning localities could ban pot businesses. And while it hasn't agreed on a final tax rate yet, it looks like it will be relatively low compared to other legalization states, coming in at between 10% and 20%.
Drug Testing
Maine Labor Department Tells Employers Not to Test for Pot Pending Changes in State Law. The Labor Department said most businesses should not test workers and job applicants for marijuana because the state does not have laws on the books. The Labor Department urged the legislative panel charged with implementing legalization to write laws that would clearly spell out what testing regimes would be allowed.
International
Fighting in Colombian Coca Zones Displaces Hundreds. Colombian security forces and an "unidentified illegal armed group" have been engaged in armed clashes in the municipality of Hacari in Norte de Santander state for several days, according to the United Nations. As a result, more than 200 locals have fled. The area is near Catatumbo, where there is more coca than government presence, and where dissident leftish guerillas and rightist paramilitary forces have been active.