Massachusetts lawmakers approve the legal marijuana bill, the Justice Department officially resurrects "adoptive sharing" for asset forfeitures, Gallup says more Americans have smoked pot than ever, and more.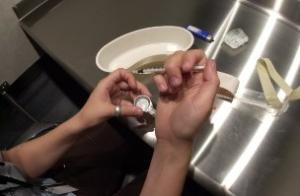 Marijuana Policy
Gallup Poll Has Number Who Say They've Used Marijuana at All-Time High. Some 45% of American adults have tried marijuana, according to Gallup. That's an all-time high, and it's more than ten times the number (4%) who admitted smoking pot in 1969, the first year Gallup asked the question. About 12% said they currently use marijuana.
Massachusetts Legislature Approves Compromise Legalization Bill. The House and Senate both approved a compromise measure to implement marijuana legalization Wednesday. House Bill 3818 now heads to the desk of Gov. Charlie Baker (R), who is expected to sign it. The bill increases taxes from 12% to up to 20%, and would allow authorities in localities that didn't vote in favor of the legalization initiative to ban pot businesses without a popular vote.
Medical Marijuana
Texas Bid to Expand Medical Marijuana Defeated. An effort to expand medical marijuana in the state was stopped by the House State Affairs Committee Wednesday. Rep. David Knoll (R) had tried to add an amendment to a special session bill authorizing the Texas Medical Board and other agencies, but the amendment never got enough support to come up for a vote.
Asset Forfeiture
Justice Department Brings Back Aggressive Asset Forfeiture Policy. As Attorney General Sessions vowed earlier this week, the Justice Department on Wednesday formally unrolled a revamped "adoptive forfeiture" policy that will allow state and local law enforcement agencies to hand drug cases over to the feds to ensure that the cops get the great bulk -- 80% -- of the proceeds from seizures, in many cases doing an end-run around state asset forfeiture law. The program was halted by then-Attorney General Eric Holder in 2015 after a rising outcry over abuses. The move was praised by law enforcement but criticized by civil rights groups and even some members of Congress.
Heroin and Prescription Opioids
Rhode Island Governor Signs Package of Bills to Fight Opioid Epidemic. Gov. Gina Raimondo (D) Wednesday signed into law three bills aimed at the state's opioid problem. One allows law enforcement to access an electronic prescription database without a warrant, one requires doctors to discuss the risks of addiction with patients when prescribing opioids, and one expands the kind of drugs that can be electronically prescribed. "Every Rhode Island community has been touched by this crisis, and I'll take every step I can to fight back," Raimondo said in a signing statement.
Harm Reduction
California Safe Injection Site Bill Awaits Senate Floor Vote. A bill that would allow supervised injection sites in the state has already passed the Assembly and has now been approved by both the Senate Health Committee and the Public Safety Committee. Assembly Bill 186, sponsored by Assemblywoman Susan Talamantes Eggman (D-Stockton) now awaits a Senate floor vote. If the bill passes, it will go back to the Assembly for concurrence, and then to Governor Jerry Brown's desk.