Catalonia okays cannabis social clubs, the Greeks give formal final approval to medical marijjuana, a Delaware commission will study pot legalization and report back in January, and more.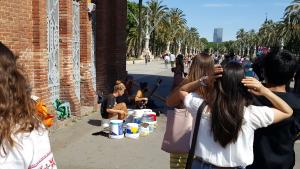 Marijuana Policy
Delaware Legislature Punts on Legalization, Will Instead Form Study Committee. The General Assembly voted last Saturday to create the Adult Use Cannabis Task Force, to "study adoption of a model for regulation and taxation of adult-use cannabis in Delaware, including local authority and control, consumer safety and substance abuse prevention, packaging and labeling requirements, impaired driving and other criminal law concerns, and taxation, revenue, and banking issues." The 23-member task force will hold a first meeting in September and must report its findings and recommendations to the General Assembly and the governor by January 31, 2018. The move comes in lieu of approving a legalization bill that was filed this year.
Medical Marijuana
Montana Issues Temporary Emergency Rules for Medical Marijuana Program. The state health department released "temporary emergency rules" last week to provide guidance to patients and providers as part of the state's new program went into effect last Friday. The emergency rules clarify how the Department of Public Health and Human Services will regulate possession limits, testing labs, and concentrate makers during the transition period until the full regulatory framework is set, which must happen by April 30, 2018.
International
Spain's Catalonia Legalizes Marijuana. The government of Catalonia has legalized marijuana following a popular petition campaign that forced a government debate. The parliament voted to regulate cannabis consumption clubs and will allow members to grow, consume, and distribute marijuana. Clubs will be limited to producing 330 pounds of dried buds per year and will have rules designed to discourage "drug tourism." Catalonia is an autonomous region within Spain, but the government in Madrid could seek to challenge the legalization move. That could lead to even more tension between Madrid and Catalonia, which plans to vote on an independence referendum on October 1.
Greeks Legalize Medical Marijuana. At a press conference last Friday, Prime Minister Alexis Tsipras made it official: medical marijuana is now legal in Greece. He announced that the Joint Ministerial Decision on the topic was now signed and published. "From now on, the country is turning its page, as Greece is now included in countries where the delivery of medical cannabis to patients in need is legal," he said.