Maine lawmakers seek agreement on legal marijuana policy with the governor, a new study of an underground safe injection site finds benefits, Pennsylvania medical marijuana patient numbers now exceed 10,000, and more.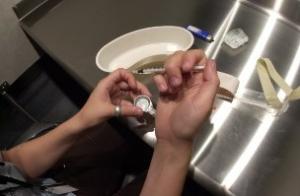 Marijuana Policy
Maine Lawmakers to Meet With Governor Friday on Marijuana Issues. Key legislators will meet tomorrow with Gov. Paul LePage (R) in a bid to reach agreement on a bill that would regulate the state's legal marijuana markets. LePage and Republicans are wary of having a portion of marijuana sales tax revenues earmarked for localities that host retail marijuana stores, saying that could encourage communities to allow such stores. There are also disagreements over how taxes should be structured. The bill under discussion is L.D. 1719.
Medical Marijuana
Pennsylvania Sees More Than 10,000 Register as Medical Marijuana Patients. Some 10,135 people have registered to participate in the state's emerging medical marijuana program, the state Department of Health reported Wednesday. Twelve grower/processors have been approved to supply the patients; eight of them have already begun operations.
Harm Reduction
Study of Undergound Safe Injection Site Finds Benefits. A study of an underground safe injection site operating somewhere in the US has found that word spread rapidly among injection drug users about the site, about 80% of people using the facility were homeless, and 90% said if not for the site, they would have been shooting up in a public space. Users of the unauthorized site also said they felt safer, less rushed and less stigmatized, and reported better health outcomes and better hygiene and disposal practices. The study was led by San Francisco-based epidemiologist Alex Kral and will appear in the March issue of the International Journal of Drug Policy.
Indonesian Cops Killed 79 Drug Suspects This Year, Arrested More Than Half a Million. The National Drug Agency reported Wednesday that police shot and killed 79 suspected drug dealers in 2017. The agency also reported more than 500,000 drug arrests and more than 58,000 arrests for drug dealing. "We shot 79 even though we arrested 58,000. We have enough ammunition for 58,000, it's just that they still have some good luck," BNN chief Budi Waseso told reporters. "We actually hoped that they would resist, so we could shoot them," he joked. "But most of them immediately surrendered when we conducted the raids."