The folks behind Ohio's 2015 "monopoly" marijuana legalization are back with details on their proposed "free market" 2018 initiative, Denver gets its first marijuana social club application, the Justice Department ends its deferred prosecution agreement with HSBC bank over drug cartel money laundering, and more.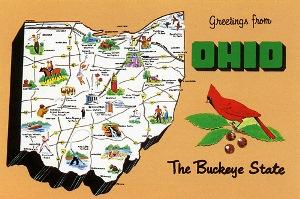 Marijuana Policy
First Look at Proposed Ohio Legalization Initiative. The two men behind Ohio's failed 2015 marijuana legalization "monopoly" initiative held a press conference Monday outlining their proposed 2018 initiative. Unlike the 2015 initiative, next year's version would be a "free market" approach, there would be a local option to ban pot businesses, public smoking of marijuana would not be allowed, businesses would have to stay 500 from schools and churches, and individuals would have the right to grow their own (although landlords could forbid tenants from doing so). Organizers said they plan to submit their initiative to state officials next month.
Denver Gets First Marijuana Social Club Application. A business that wants to allow on-site vaping and consumption of marijuana edibles has become the first to apply for a marijuana social club license. Denver residents voted to allow such businesses when they approved Initiative 300 last year. The Coffee Joint next faces a public hearing, but has already won the backing of its local neighborhood association.
Law Enforcement
Justice Department Closes File on HSBC Drug Money Laundering. The Department of Justice will end its deferred prosecution agreement with HSBC, Europe's largest bank, after five years, marking the end of its punishment of the bank for laundering hundreds of millions of dollars in Mexican drug cartel funds. DOJ hit HSBC with a $1.9 billion fine and imposed the five-year deal in 2012, demanding that HSBC strengthen its sanctions and anti-money laundering programs, which it has now apparently done. No one has faced criminal charges in the case.
International
Canada Federal Government, Provinces Reach Agreement on Marijuana Taxes. Canada's federal government and the provinces have agreed in principle on a two-year tax sharing agreement that would give provinces 75% of the eventual revenues. The federal Liberals have proposed a 10% excise tax on marijuana products and had originally proposed splitting the money 50-50, but have now retreated in the face of loudly-voiced provincial concerns that they would bear most of the burden of legalization-related costs.