San Francisco gets a cannabis czar, the Border Patrol reminds Mainers that pot is still illegal federally, Maryland's medical marijuana grower picture is getting clarified, and more.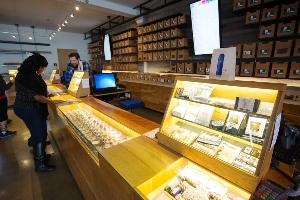 Marijuana Policy
Border Patrol Tells Mainers It Will Still Seize Marijuana Despite Legalization. Even though the state legalized marijuana, it remains illegal under federal law, and Border Patrol officials in the state have just reminded Mainers of that fact. Border Patrol Chief Daniel Hiebert said that agents aren't actively looking for pot, but they will seize it if they find it.
San Francisco Appoints Cannabis Office Director. The city has named Nicole Elliot to head its new Office of Cannabis, which will oversee commercial marijuana regulation in the city. Elliot is a long-time city staffer, having worked under both current Mayor Ed Lee and former Mayor Gavin Newsom. Under Lee, she served as the director of government affairs and liaison to the Board of Supervisors. "She is uniquely qualified to assist The City with developing cannabis regulations and equity programs at a time when the state is moving swiftly in preparation for 2018 rollout of commercial cannabis," City Administrator Naomi Kelly wrote in a press release. Elliot's salary will be $149,000 before benefits.
Medical Marijuana
Maryland Issues Three More Medical Marijuana Grower Licenses. The state Medical Cannabis Commission on Monday issued final licenses to three more medical marijuana growers. The move came despite the growers missing a deadline earlier this month. Two other grower applicants were granted formal extensions. The state had given 15 companies a shot at the licenses; nine had already been approved. None of them belong to African-Americans, which has become a point of contention in the state. Now, with Monday's action, all but one of them are on track to supply the market.
Drug Testing
Oklahoma Has Spent More Than $2 Milling on Drug Testing Welfare Applicants. In the past five years, the state has spent almost $2.2 million to drug screen and drug test people applying for the Temporary Assistance for Needy Families (TANF) program, commonly known as welfare. The testing generated a positive drug test result rate of 2.8%, meaning the state got about a hundred people a year knocked off the program for its efforts.