The polling is looking good in Massachusetts and better in California, there will be no initiative for Michigan this year, kratom proponents fight a proposed DEA ban, Canada gives the go-ahead for expanded heroin prescribing, and more.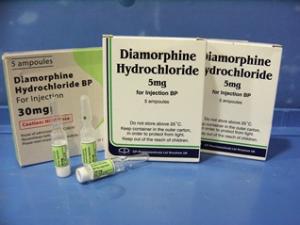 Marijuana Policy
Marijuana Could Be a $50 Billion a Year Industry Within a Decade. A new report from financial analysts Cowen & Company says the legal weed industry could grow to a $50 billion a year business by 2026. The report notes that legalizing pot in California alone could triple the size of the industry, currently around $6 billion a year.
California: LA Times Poll Has Prop 64 at 58%. The Prop 64 legalization initiative is supported by 58% of voters, according to a new USC Dornsife/Los Angeles Times poll. Only 34% said they would vote against the measure, with 8% undecided. "It's very clear that Californians' attitudes have changed dramatically on this issue over the last several years," said Dan Schnur, director of the poll and of the Jesse M. Unruh Institute of Politics at USC. "The opposition is going to have to identify a fairly sizable source of campaign funding if this initiative is to be close," he added.
California: Eyewitness News/Southern California Newsgroup Poll Has Prop 64 at 52%. The Prop 64 legalization initiative has 52% in a new poll from Eyewitness News/Southern California Newsgroup. Some 40% said they would vote no, with 8% undecided.
Massachusetts Poll Has Legalization Initiative Up By Five Points. A new poll from WBUR TV has support for the Question 4 legalization initiative at 50%, with 45% opposed. "There's some big demographic splits, particularly along age lines," pollster Steve Koczela said. "Younger people are very much in favor of legalization, and it declines steadily as you move up the age brackets to where you get to voters who are 60-plus, and they're opposed to it by a 17-point margin."
Federal Judge Puts Final Nail in Coffin of Michigan Legalization Initiative. A federal court judge rejected a last chance effort by MI Legalize to get its legalization initiative on the November ballot. Judge Linda Parker Tuesday denied a motion from the group to stop the printing of election ballots, saying there was not enough time to stop the election process. MI Legalize gathered enough signatures to qualify for the ballot, but some of them came outside a 180-day mandated by state law. MI Legalize challenged rulings by state officials that knocked those signatures off the tally, but lost in the state courts -- and now, in federal court.
Kratom
Kratom Supporters Fight Proposed DEA Ban. Proponents of the Southeast Asian plant with mild opium-like qualities have mobilized to block the DEA proposed emergency move to place the substance on Schedule I of the Controlled Substances Act. Hundreds marched in front of the White House Tuesday and more than 120,000 have signed a Change.org petition opposing the ban, meaning the White House will have to publicly address the issue.
International
Canada Has Approved Prescription Heroin. The Canadian government last week quietly approved new regulations that will allow doctors to prescribe diacetylmorphine (heroin) to long-term users who have not responded to more conventional approaches to weaning them from the drug. The Crosstown clinic in Vancouver is currently the only place in the country with a heroin maintenance program, but that should now not be the case for long.
British MPs Call for Medical Marijuana. The All Party Parliamentary Group on Drug Policy Reform has called for medical marijuana to be legalized in the United Kingdom. The call comes on the heels of a report by neurologist Dr. Mike Barnes urging that marijuana be moved from Schedule I to Schedule IV on the British drugs classification scheme. "Many hundreds of thousands of people in the UK are already taking cannabis for primarily medical reasons," said MP Caroline Lucas, who co-chairs the group. "It is totally unacceptable that they should face the added stress of having to break the law to access their medicine."