Marijuana legalization should get a vote in the Vermont Senate this week, a Utah medical marijuana bill advances, a West Virginia medical marijuana bill is filed, Christian anti-drug vigilantes threaten Burmese opium crops, and more.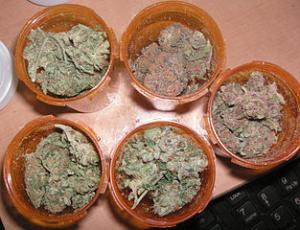 Marijuana Policy
Vermont Legalization Bill Heads for Senate Floor Vote. The measure, Senate Bill 241, was approved by the Senate Appropriations Committee Monday. It has already passed the Senate Judiciary and Finance committees and now heads for a Senate floor vote. If it passes the Senate, it must still get through the House.
Vermont Faith Leaders Express Support for Legalization Bill. In a letter sent today, a diverse group of more than a dozen local clergy and faith leaders from across Vermont said they have "a moral obligation to support change" because the state's current marijuana prohibition laws "have caused more harm than good for the people of Vermont." The marijuana laws are "disproportionately enforced against the poor and people of color," the religious leaders added.
Medical Marijuana
Georgia CBD Cannabis Oil Bill's Cultivation Provision Gutted. The House Judiciary Non-Civil Committee voted Monday to cut a provision allowing for the in-state cultivation of marijuana for CBD cannabis oil production from House Bill 722, which was filed to allow for in-state cultivation. "I can't come before you today without saying how disappointed I am that we're not moving forward with cultivation in this bill," said bill sponsor Rep. Allen Peake (R-Macon). "That was the heart of the bill." Although the state approved CBD cannabis oil last year, there is no way for Georgia patients to legally procure their medicine.
Utah Senate Approves Medical Marijuana Bill. The Senate Monday narrowly approved Senate Bill 73, which would allow patients to use marijuana in edible, extract, and oil form. The bill, sponsored by Sen. Mark Madsen (R-Saratoga Springs), overcome opposition from the Mormon Church.
West Virginia Medical Marijuana Bill Filed. A bipartisan group of Senate leaders has introduced a bill that would make medical marijuana legal. The bill, Senate Bill 640, is sponsored by Senate Minority Leader Jeffrey Kessler (D-Glen Dale), Senate Majority Leader Mitch Carmichael (R-Ripley), and three other senators. It has been referred to the Senate Committee on Health and Human Resources. The bill would allow qualifying patients to cultivate up to 12 mature plants and possess up to six ounces. It would also allow state-regulated dispensaries that would supply patients with medical marijuana.
Asset Forfeiture
Oklahoma Asset Forfeiture Reform Bill Killed. A bill to overhaul the state's civil asset forfeiture program has died after the Senate Judiciary Committee failed to include it on its agenda as a Thursday deadline for committee reports looms. Instead, the committee advanced another, less far-reaching asset forfeiture reform bill that would require compensation for attorney fees, court costs and interest on properly determined to be unlawfully seized.
International
Canadian MP Will Propose Federal 911 Good Samaritan Bill. Liberal MP Ron McKinnon (Coquitlam-Port Coquitlam, BC) says he will introduce a bill granting protection from prosecution for people who call 911 during a drug overdose. The "Good Samaritan Drug Overdose Act" was expected to be filed in the House of Commons this week.
Burmese Anti-Drug Vigilantes Face Off With Security Forces, Opium Farmers. As many as 3,000 Christian anti-drug vigilantes are camped at a military roadblock in Kachin state, blocked by security forces from pursuing their goal of destroying poppy production in the area. The group is called Pat Jasan and was set up by local Baptist elders two years to counter the influence of drug traffickers. They claim to have already destroyed up to 3,500 acres of poppy fields at a time when the harvest is in full swing. One vigilante has been killed in violence with farmers, and the military and police are now blocking the vigilantes amid threats of further attacks from farmers. Burma is the world's second largest opium producer.