The DEA announced Tuesday that it plans to crack down on kratom, a Southeast Asian plant that has gained increasing popularity among chronic pain sufferers and people wishing to wean themselves from opioids.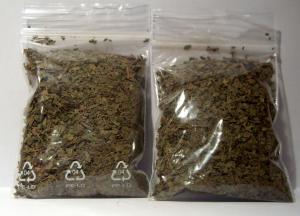 The drug agency said it was using its emergency powers to place two psychoactive substances in the plant -- mitragynine and 7-hydroxymitragynine -- on Schedule I of the
Controlled Substances Act
, the same schedule as heroin. The move will take effect by the end of September and will be in effect for up to three years.
"Kratom has a high potential for abuse, has no currently accepted medical use in treatment in the United States, and has a lack of accepted safety for use under medical supervision," the defining characteristics of a Schedule I drug, the DEA said.
Kratom was traditionally used in Thailand and Malaysia to help endure physical labor, relieve pain, and stop diarrhea. It was also good for relieving the symptoms of opium withdrawal.
That's because it acts like an opiate. Its active ingredients activate the same opioid receptors heroin and prescription pain pills do. And it behaves like an opiate -- with a couple of exceptions, one interesting and one quite important.
Like other opiates, it relieves pain, slows bowel activity, produces euphoric feelings, and creates physical addiction and a withdrawal syndrome. But unlike other opiates, it causes a pleasant, caffeine-type buzz in small doses and, more significantly, it is apparently very difficult -- if not impossible -- to overdose on it. The few deaths where kratom is implicated include poly-drug use, or as in a case reported by the New York Times, suicide by a young kratom user who was also being treated for depression.
And it has caught on here in the United States, especially among pain patients and people seeking to transition from opioid addiction, so much so that the DEA said it needed to act "in order to avoid an imminent threat to public safety." Calls to poison control centers about kratom jumped from a mere two between 2000 and 2005 to 660 between 2010 and 2015. DEA reported 15 "kratom-related" deaths between 2014 and now.
But that's out of millions of doses. According to DEA's own data, at least 130,000 pounds of kratom was seized by law enforcement in the last two years, and the FDA has ordered another 140,000 pounds of the stuff held pending an admissibility decision. That's enough for some 12 million doses, and that's just what they seized.
The DEA decision will doubtless lead to the removal of falsely-labeled and tainted products claiming to be kratom, but it's also likely to drive thousands of people with chronic pain and opioid problems back to the substances they were trying to avoid. And when it comes to lethality, kratom is opium's mild-mannered little sister. While the DEA cites 15 deaths linked to kratom since 2014, there were more than 29,000 fatal opioid overdoses in 2014 alone.