This article was produced in collaboration with AlterNet and first appeared here.
Canadian Prime Minister Justin Trudeau, elected last fall, campaigned on a promise that his Liberal government would legalize marijuana. Now, we're getting an idea of just when that is going to happen.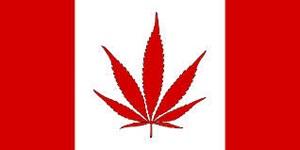 Speaking at the
UN General Assembly Special Session (UNGASS) on the World Drug Problem
Wednesday, Canadian Health Minister Jane Philpott said the government will introduce legislation to legalize and regulate marijuana in spring 2017.
"Our approach to drugs must be comprehensive, collaborative, and compassionate. It must respect human rights while promoting shared responsibility. And it must have a firm scientific foundation. In Canada, we will apply those principles with regard to marijuana," she said.
"To that end, we will introduce legislation [to legally regulate marijuana] in spring 2017 that ensures we keep marijuana out of the hands of children and the profits out of the hands of criminals. While this plan challenges the status quo in many countries, we are convinced it is the best way to protect our youth while enhancing public safety."
Canada's is a parliamentary system, which generally means that if the government introduces a bill, it becomes law. There could be unforeseen bumps in the road, but it appears all but certain that the land of the maple leaf is soon going to become the land of the pot leaf, too.
In the meantime, government officials, including legalization point man former Toronto Police Chief Bill Blair, are emphasizing that until the law changes, marijuana remains illegal except for medicinal purposes. After a Canadian Supreme Court decision in March, medical marijuana users will be able to grow their own, a right that was taken away by the previous Conservative government.
But within a couple of years, any adult Canadian should be able to join them.