Holy Cow! A marijuana legalization bill wins a committee vote in Texas! Also, decrim bills are moving in Delaware and Illinois, welfare drug testing gets shot down by Democrats in Iowa, but advances thanks to Republicans in Wisconsin, and more.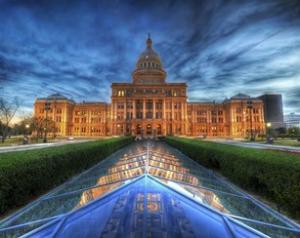 Marijuana Policy
Fourth California Legalization Initiative Filed. Busy, busy. Jason Porter and Lara Marie Collinsworth have filed the 2016 California Bipartisan Decriminalization of Cannabis Act. That's the fourth so far this year, and we're still waiting for the big one to drop. This one would legalize up to five pounds for personal possession and allow a 500 square foot garden. It would also force medical marijuana into a pharmacy system. There is a handy spreadsheet on the various proposals here.
Delaware Decriminalization Bill Heads for House Floor Vote. A bill to decriminalize the possession of up to an ounce of pot has passed the House Public Safety and Homeland Security Committee after its sponsor, Rep. Helene Keeley (D-Wilmington), said she would revise to address law enforcement concerns. It now includes language making public pot smoking or smoking in a vehicle a misdemeanor with a maximum $200 fine. The cops still oppose it, though. The bill is House Bill 39.
Illinois Decriminalization Bill Wins Senate Committee Vote. A bill that would decriminalize the possession of up to 15 grams of pot passed the Senate Criminal Law Committee Wednesday. House Bill 218 has already passed the House and now heads for a Senate floor vote.
Texas House Committee Approves Legalization Bill. In a surprise move, the House Criminal Jurisprudence Committee approved an outright legalization bill on a 5-2 vote. The bill, House Bill 2165 now awaits a chance at a House floor vote.
Medical Marijuana
Illinois Medical Marijuana Extension Heads for Senate Floor Vote. A bill to extend the state's long-delayed medical marijuana pilot program is now headed for a final Senate vote. House Bill 3299 passed the House last month. It would extend the program for four years after the first dispensary opens.
Texas Senate Approves CBD Cannabis Oil Bill. The Senate today approved Senate Bill 339, the "Texas Compassionate Use Act," which would allow people with severe epileptic conditions to use CBD cannabis oil. The bill now goes to the House. The House is considering a companion bill, but it has not had a floor vote yet.
New Synthetic Drugs
New Hampshire House Approves Synthetic Drug Bill. The House voted Wednesday to restrict synthetic drugs. The bill, Senate Bill 106, would impose fines on persons who sell synthetic drugs and fines and other penalties on businesses that sold them, but would not penalize personal possession of the substances. The bill has already passed the Senate, but was amended in the House, so it needs to go bac for a final Senate vote.
Texas Senate Approves Synthetic Drug Bill. The Senate Wednesday passed Senate Bill 1582, which would allow the state health department to designate new synthetics as "hazardous controlled substances" until the legislature has time to ban them. The bill now goes to the House.
Asset Forfeiture
Oklahoma Civil Asset Forfeiture Reform Bill Filed. Sen. Kyle Loveless (R-Oklahoma City) today filed Senate Bill 838, the "Personal Asset Protection Act." The bill would require a criminal conviction before asset forfeiture can be undertaken. Although the bill is being filed late in the session, Loveless said it was an important issue and that he would hold an interim study to examine the issue.
Drug Testing
Iowa Welfare Drug Testing Defeated. Senate Democrats stood firm to defeat a welfare drug testing amendment proposed as part of a health and human services budget bill Wednesday. The amendment was defeated on a party-line vote, 26-23. The Senate also rejected an amendment that would have required drug testing for lawmakers.
Wisconsin Welfare Drug Testing Bill Moves. A bill that would require some public benefits recipients to undergo drug testing was approved by the Assembly Committee on Public Benefit Reform Wednesday. The Republican-backed measure is Assembly Bill 192.