A New Jersey coalition for marijuana reform has formed, an Alabama judge sentences a man to life in prison over 2 1/2 pounds of pot, the Hawaii legislature advances a dispensary bill, asset forfeiture reform gets slapped down in Virginia and Wyoming, the opium trade is expanding in western Afghanistan, and more. Let's get to it: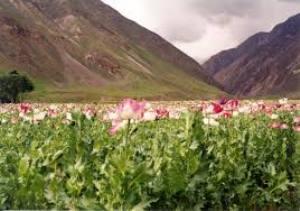 Marijuana Policy
New Jersey Legalization Coalition Forms, Includes Prosecutors. Representatives from a number of groups, including the ACLU, the NAACP, and the New Jersey Municipal Prosecutor's Association held a news conference in Newark today to announce the formation of New Jersey United for Marijuana Reform. The groups are joining forces "in a broad-based campaign to legalize, tax and regulate marijuana, ending thousands of arrests per year in New Jersey."
Medical Marijuana
Colorado Cannabis Chamber Supports Tightened Regulations on Caregivers. The chamber, which represents recreational marijuana business interests, has come out in support of Senate Bill 14, which would require medical marijuana caregivers to be licensed and registered with the state. The measure would help law enforcement maintain a tighter control on who is growing how much marijuana for whom. The chamber said the "caregivers system is being abused" by people who don't want to abide by the same regulations as the rest of the industry. The bill awaits a hearing in the House Public Health Care and Human Services Committee.
Hawaii Dispensary Bill Wins House Committee Vote. Fourteen years after the legislature approved medical marijuana, it may finally get around to approving dispensaries. A bill that would do that, House Bill 321, was approved by the House Committee on Health and the Judiciary Tuesday. It now goes before the House Committee on Finance. A similar proposal in the Senate was slated for a decision in a joint committee hearing today.
Asset Forfeiture
Virginia Civil Asset Forfeiture Reform Bill Killed in Senate Committee Vote. An asset forfeiture reform bill that passed the House of Delegates 92-6 earlier this month and passed the Senate Courts of Justice Committee 11-2 last week has been killed in the Senate Finance Committee. The measure, House Bill 1287, was opposed by law enforcement and prosecutors. Senate Majority Leader Tommy Norment (R-James County) said the bill will now be studied by the State Crime Commission.
Wyoming Governor Vetoes Civil Asset Forfeiture Reform Bill. Gov. Matt Mead (R) Tuesday vetoed a bill that would have made it more difficult for police and prosecutors to seize property from people they believe are involved in drug crimes. The bill, Senate File 14, would have required a criminal conviction before civil asset forfeiture could take place. Mead, a former US attorney, said he didn't believe asset forfeiture had been abused in the state. The measure passed both houses by a veto-proof margin, so stay tuned.
Harm Reduction
Virginia 911 Good Samaritan Bill Awaits Final Senate Vote. A bill that would provide protection from prosecution to people who report drug overdoses has passed the Senate and House of Delegates, but was amended in the House and now requires a final Senate concurrence vote before heading to the desk of Gov. Terry McAuliffe. The measure is Senate Bill 892.
Sentencing
Alabama Man Gets Life in Prison for Marijuana Distribution. A Houston County judge sentenced a 39-year-old man to life in prison Tuesday for trafficking 2 ½ pounds of pot. Richard Bolden was also hit with another eight years for bail-jumping -- to be served consecutively. Bolden had one prior federal drug conviction and was out on bail on a cocaine trafficking charge, but had not been convicted of that. He had also been arrested 37 times, but never actually convicted in any of those arrests. But prosecutors said he was "a habitual and dangerous criminal offender" and the judge agreed.
Law Enforcement
Minnesota Man Jailed on Three Meth Charges Freed After Tests Showed Powder Was Vitamins, Not Amphetamines. Joseph Ray Burrell, 31, spent three months in jail on meth charges after a Mankato police officer mistook his vitamins for meth. Burrell tried to tell the cops what the powder was, but they didn't believe him and jailed him on $250,000 bail. He was set for trial February 4, but test results came back two days before, and police were forced to admit he was telling the truth. The charges were dropped and Burrell was released. No mention of restitution.
International
Opium Booms in Western Afghanistan; Taliban, ISIS, Corrupt Officials Benefit. A weak government in Kabul is unable or unwilling to reign in rampant opium production and trafficking in remote western Farah province bordering Iran. Taliban insurgents control half the region, a former Taliban commander who has pledged allegiance to ISIS is roaming the area with a band of dozens of gunmen, and police and local government officials seem more interested in profiting off the crop than suppressing it. That bodes ill for the Kabul government. Much more at the link.