A marijuana tax and regulate bill advances in DC, a legalization bill gets filed in Georgia, Seattle's mayor has a plan to regulate medical marijuana, prescription heroin is coming to Vancouver, Malta is ready to decriminalize drug possession, and more. Let's get to it: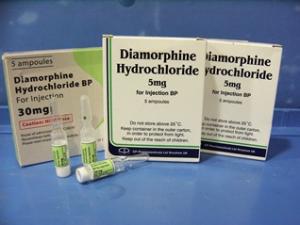 Marijuana Policy
DC City Council Committee Approves Tax and Regulate Bill. The council's Committee on Business, Consumer, and Regulatory Affairs today voted in favor of legislation to tax, regulate, and license the production, distribution, and sale of marijuana in the nation's capital. The bill is B20-466, the Marijuana Legalization and Regulation Act. Movement on the bill comes just three weeks after DC voters overwhelmingly approved the Measure 71 marijuana possession and cultivation legalization initiative. That initiative didn't address taxation and regulation because it could not do so under DC law, which leaves such moves to the council. And the council is moving.
Georgia State Senator Files Legalization, Medical Marijuana Bills. State Sen. Curt Thompson (D-Norcross) Monday pre-filed bills to legalize both medical and recreational marijuana. SR 6 is a resolution calling for a state constitutional amendment to legalize marijuana, while SB 7 is a full-fledged medical marijuana bill that would allow patients to grow their own and possess up to two ounces, allow registered caregivers to grow for patients, and allow for dispensaries.
New Mexico State Representative Talks Pot Legalization. A marijuana legalization bill died in the legislature this year, and prospects for passage in the incoming, even more heavily Republican legislature next year are not good. But that's not stopping Rep. Bill McCamley (D-Las Cruces). He says the state needs to have the legalization conversation, and he's making his case today during a meeting of the interim Health and Human Services Committee. Click on the link for some McCamley quotes.
Medical Marijuana
Seattle Mayor Releases Medical Marijuana Plan. Mayor Ed Murray's office Monday unveiled its plan for regulating medical marijuana collective gardens and dispensaries. The plan would create two classes of collective gardens. Class 1 would operate dispensaries, while Class 2 would not and is subject to fewer regulatory restrictions. Under state law, recreational marijuana is regulated at the state level, but medical marijuana is not. While efforts to regulate medical are likely in the state legislature next year, Murray said even if they pass, they wouldn't go into effect until 2016, so the city is moving to regulate now.
International
Australia's Queensland to Toughen Penalties for Drug Dealers in Fatal Overdoses. The Queensland state government is set to introduce a bill today that would compel courts to consider the death of a drug user an aggravating factor in sentencing of drug dealers. Attorney General Jarrod Bleijie said the bill was inspired by a case last year in which a man was sentenced only to probation after supplying a shot of morphine to a minor who died of an overdose.
Prescription Heroin Coming to Vancouver. Doctors in Vancouver have received the first shipment of prescription heroin to be used by former participants in a clinical heroin maintenance trial. In all, 120 severely addicted people have been approved by Health Canada to receive the drugs. The first shipment will begin to be administered this week to the first 26 participants. The patients will go to a clinic two or three times a day to receive and inject the drug. They must then wait at the clinic for at least 20 minutes to nurses can monitor them. The project is an outgrowth of the North American Opiate Medication Initiative (NAOMI) and the follow-up Study to Assess Longer-term Opioid Medication Effectiveness (SALOME).
Chile Celebrates Fourth Legalize Festival. Thousands of people attended the fourth annual Legalize festival in Santiago Monday. Part pot party, part political protest, the festival includes expositions, panels, and live music. Ancient British rockers Deep Purple were among the bands playing yesterday.
Malta Ponders Bill to Decriminalize Drug Possession. A major drug reform bill, the Drug Dependence Bill, which would decriminalize the first-time possession of drugs, went to parliament Monday. First offenders would face only fines, but repeat offenders would have to appear before a Drug Offender Rehabilitation Board and could be ordered to drug treatment if appropriate. People could grow one marijuana plant without being subject to mandatory jail time, and the bill would also allow for the use of medical marijuana.