Look out! Here comes the next wave of marijuana legalization efforts. Also, NYPD will stop its penny-ante pot arrests, Oregon DAs ponder dropping pot charges, the FBI's annual arrest figures are out, the ACLU gets $50 million to fight overincarceration, Britain awaits a historic debate on drug policy, and more. Let's get to it: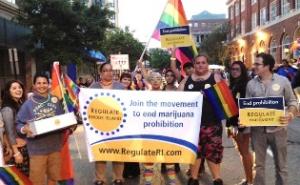 Marijuana Policy
Nevada 2016 Legalization Initiative Ready to Hand in Signatures. The Nevada Coalition to Regulate Marijuana says it will turn in 170,000 signatures Wednesday for its proposed 2016 initiative to legalize marijuana. It needs 102,000 valid voter signatures to qualify for the ballot. This is a Marijuana Policy Project effort.
Oregon Prosecutors to Rethink Pending Pot Cases. Although marijuana possession won't be legal in the state until July 2015, prosecutors in some of its most populous counties say they will revisit pending marijuana cases in light of last week's legalization victory at the polls. DAs in Clackamas (Oregon City), Multnomah (Portland), and Washington (Hillsboro) counties all said they are trying to figure out how to proceed.
Rhode Island Activists Aim to Legalize It in 2015. Which will be the first Northeastern state to legalize marijuana? Rhode Island activists organized into Regulate Rhode Island want their state to be the one. They are putting together a coalition to try to push a bill to tax and regulate marijuana through the General Assembly next year. The bill died in the legislature this year. This is a Marijuana Policy Project effort.
NYPD to Stop Arrests for Minor Marijuana Offenses. The NYPD and Mayor Bill de Blasio (D) announced today that the department will quit arresting people for low-level marijuana possession. NYPD has been arresting tens of thousands of people each year, but in the face of withering criticism, it will now begin issuing tickets instead. But people caught smoking pot in public will continue to face arrest.
Drug Testing
Wisconsin Governor Calls for Drug Testing for Unemployment, Food Stamps. Newly reelected Republican Gov. Scott Walker is calling drug testing of people seeking public benefits, including unemployment insurance. He and Assembly Speaker Robin Vos (R-Rochester) both say it will be a priority in the coming legislative session. Walker and Vos haven't unveiled an actual proposal, but any bill that calls for mandatory, suspicionless drug testing is certain to face constitutional challenges.
Law Enforcement
Pot Arrests Drop, But Still 1.5 Million Drug Arrests Last Year. More than 1.5 million people were arrested for drug offenses in the US last year, and more than 693,000 of those for marijuana offenses. The figures come from the FBI's 2013 Uniform Crime Report, which was released today. Marijuana arrests have declined from peaks early in this century. In 2008, there were a record 872,000 marijuana arrests, so pot busts have declined by slightly more than 20% since then. But arrests for other drug offenses continue apace, actually increasingly slightly last year. Still, because of the decline in marijuana arrests, the overall number of drug arrests dropped by about 50,000.
Sentencing
ACLU Gets $50 Million to Fight to Reduce Incarceration. The American Civil Liberties Union (ACLU) has been awarded a $50 million grant from George Soros's Open Society Foundations to mount an eight-year campaign to change criminal justice policies and reduce incarceration in this country. The group says there is an emerging bipartisan consensus to make reforms, although last week's election results may stiffen opposition. The ACLU wants to reduce imprisonment by 50% in the next years.
International
Missing Mexican Students Were Murdered By Drug Gang, Officials Say. Mexican Attorney General Jesus Murillo Karam said last Friday that 43 radical student teachers missing for more than a month in Iguala, Guerrero, had been murdered by a drug gang working with the wife of the mayor of the city. Murillo said the students were killed and their bodies burned, with the remains scattered in a local river. The announcement of the students' fate has not, however, quieted outrage in the country, where corruption and impunity are major issues. Demonstrators torched the wooden front doors of the National Palace in Mexico City Saturday night and were blocking the Acapulco airport Monday, among other actions.
Former Chilean President Calls for Drug Decriminalization. In an interview last Friday, former President Ricardo Lagos said decriminalizing marijuana -- and possibly even cocaine -- possession was the best way to reduce both prohibition-related crime and drug use. Start with marijuana, he said. "After one or two years we will see if we dare to legalize cocaine. It starts with a major prevention campaign and with providing non-prison punishment for those who are incarcerated today, depending on the magnitude of their offenses," Lagos proposed. "The only thing that's clear to me is that there were 10,000 drug arrests per year in Chile in 2002 and 10 years later it's multiplying by eight, reaching 82,000. Chile needs to grow up," he said. Lagos was president of the country from 2000 to 2006.
In Historic Move, British Parliament to Debate Drug Policy. The House of Commons will debate Britain's drug policies for three hours this coming Thursday. It is the first time Parliament has taken up the topic since passage of the Misuse of Drugs Act -- the current law -- four decades ago. The debate comes as Britain's governing coalition has been sundered on the issue, with the junior partner Liberal Democrats coming out loudly for drug decriminalization and the senior partner Conservatives firmly holding the line against any reforms.
Australia's New South Wales Wants Random Drug Testing of Drivers. The New South Wales state government has introduced a bill that would allow police to randomly drug test drivers for the presence of marijuana, amphetamines, and ecstasy. The tests would be done with a saliva swab.