Kentucky agricultural officials told the Associated Press Thursday evening that the DEA had approved a permit allowing the state to import a 250-lb shipment of hemp seed to be used for research purposes. The DEA had originally balked at issuing the permit, only to be hit with a firestorm of criticism, including sharp words from Senate Minority Leader Mitch McConnell, who just happens to be from Kentucky.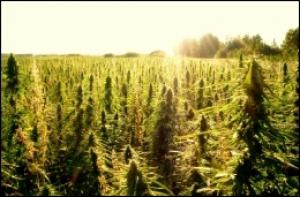 Although the omnibus farm bill passed earlier this year included an amendment allowing for research into hemp in states that had authorized it, which Kentucky has, the seeds imported from Italy were held up at a US Customs warehouse in Louisville. Kentucky sued the DEA last week over the issue after the agency refused to issue a permit.
But state Agriculture Commissioner James Comer said late Thursday that the seeds would be released Friday and that the hemp could be in the ground as early as this weekend. Officials had worried that the DEA's obstructionism would stall planting until it was too late in the season, a date they pegged at around June 1.
"There was no sense to this," Comer said.
"This is a historic day," he continued. "We've done something that no one thought we could do a year-and-a-half ago. We legalized industrial hemp and we've proven that it's an agricultural crop and not a drug."
A Justice Department spokeswoman told the AP that the DEA had indeed issued the permit Thursday. Justice, the DEA, and Customs were all named in the suit filed by the Kentucky Agriculture Department. Attorneys for the federal government and the state met with a federal judge Wednesday.
But that wasn't the only meeting going on. Sen. McConnell sat down with DEA Administrator Michele Leonhart Wednesday to urge her to reconsider.
"It was the intent of my provision in the farm bill to allow states' departments of agriculture and universities to explore the commercial use of industrial hemp as a means for job creation and economic development," McConnell said.
Whether it was a federal judge or a powerful home-state political figure, or a combination of the two, somebody got the DEA's attention. Now, the agency is getting out of the way, and Kentucky can get down to the business of planting its first hemp crops in decades.