Federal drug prosecutions are declining, marijuana legalization moves forward in the Northeast, Pennsylvania counties pay for taking babies away from mothers over false positive drug tests, and more. Let's get to it: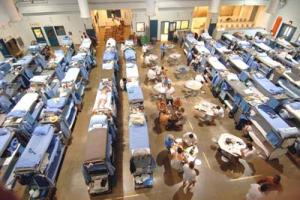 Marijuana Policy
New Hampshire Legalization Bill Moves Forward. A bill to legalize and regulate marijuana like alcohol has passed out of the House Ways and Means Committee after the committee adopted an amendment to simplify the tax structure and improve regulations. House Bill 492 then got a "no pass" from the committee, but now goes to the House floor for a second vote. The House already approved the bill in January, after overturning a similarly negative recommendation from the Criminal Justice and Public Safety Committee. If it passes the House again, it then goes to the Senate.
New Jersey Legalization Initiative Bill Introduced. Assemblymen Reed Gusciora (D-Trenton) and Michael Patrick Carroll (R-Morris Plains) have introduced Assembly Bill 2842, a bill that, if approved by the legislature and signed by the governor, would put the decision on whether to legalize marijuana in the hands of the voters. The bill would legalize the possession of up to an ounce of marijuana and related paraphernalia. It does not address taxation or allow for commercial sales.
Medical Marijuana
Maryland House Passes Medical Marijuana Bill. The House Monday overwhelmingly approved a bill that would make Maryland a full-fledged medical marijuana state. House Bill 1321 now moves to the Senate.
Drug Testing
Pennsylvania County Pays for Taking Baby from Birth Mother Over False Positive Drug Test. Lawrence County Children and Youth Services has settled, for $160,000, a lawsuit filed by a woman whose child was taken away following a false positive opiate test apparently caused by pasta salad. It's not the first time, either. Last July, Jameson Hospital and Lawrence County Children and Youth Services agreed to pay $143,500 to settle a similar lawsuit filed by a woman whose infant was taken by a false positive drug test apparently caused by consumption of a poppy seed bagel. A third local case is also pending. Last week, another woman Magee-Womens Hospital of UPMC, saying a false positive drug test apparently spurred by poppy seeds in farmer's market bread resulted in an Allegheny County Children Youth and Families investigation of her family.
Drug Policy
Maine Hearing Sees Criticism of Governor's Law Enforcement-Heavy Drug Policy. The legislature's Criminal Justice and Public Safety Committee Monday heard strong criticism of Gov. Paul LePage's (R) recently announced plan to address drug problems in the state by ratcheting up law enforcement. Throughout the hearing on Legislative Document 1811, speakers also highlighted the need to balance new enforcement with drug treatment programs and additional funding for the state's corrections system.
Law Enforcement
Federal Drug Prosecutions Declining. The Transactional Records Access Clearinghouse reports that the monthly count of federal prosecutions for narcotics/drugs offenses has reached its lowest level since May 2000. The latest available data from the Justice Department show there were 1,487 new prosecutions in this category in January 2014, down 7.8% from the previous month and down 11.5% from the year before. The number observed during the most recent six month period appears to be the lowest seen since the end of the Reagan Administration.
New Synthetic Drugs
Minnesota Synthetic Drug Bills Moving. Bills that would grant the Board of Pharmacy the cease and desist authority to prevent the sale of synthetic drugs are moving forward in the Minnesota Legislature. House File 2446 has passed two committees and is now being heard in the Judiciary Finance and Policy Committee In the Senate, a companion bill was heard in the Health, Human Services and Housing Committee and passed on a voice vote. It now moves on to the Judiciary Committee.
International
Mexican Anti-Cartel Vigilantes Now Complain Government is Persecuting Them. Vigilante groups in the western state of Michoacan who rose up against the Knights Templar cartel with the tacit approval of the Mexican government now say they are being persecuted not only by criminals, but also by the government. The vigilantes complained publicly Sunday, a day after the Mexican government said it was going to "put a stop" to them. The government had bruited plans to fold them into a rural security force, but now no longer seems to need them.