The District of Columbia Board of Elections announced this morning that it had approved a marijuana legalization initiative for signature-gathering. That means voters in the nation's capital could vote to free the weed in November.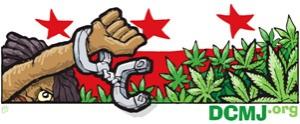 The Board rejected warnings from the city's attorney general, who said that the initiative would put DC in conflict with federal law if it passed.
Now, the DC Cannabis Campaign must gather some 25,000 signatures to qualify for the November ballot. But first, the Board of Elections must finalize the language for the measure. It has 20 days to do so.
The initiative would allow people 21 and over to possess up to two ounces of marijuana and grow up to three plants at home. If approved by the voters, it would still have to get an okay from Congress, which blocked the District's 1999 medical marijuana from being implemented for more than a decade. But that was a different era.
The initiative appears well-placed to win if it goes before the voters. A Washington Post poll in January had support for legalization at 63%, above the 60% comfort margin usually desired by initiative watchers at the beginning of a campaign.
Alaska voters are already set to vote on a legalization initiative there in August, and efforts are underway in the other most likely 2014 initiative state, Oregon, to get a measure on the November ballot there.