The District of Columbia could legalize marijuana at the ballot box this year, Dr. Sanjay Gupta doubles down on his support for medical marijuana with a new CNN special tonight, the UN Commission on Narcotic Drugs meeting this week in Vienna is attracting a lot of attention, and more. Let's get to it: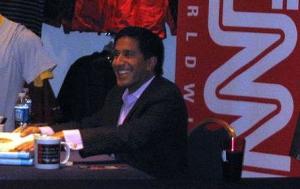 Marijuana Policy
DC Legalization Initiative Cleared for Signature-Gathering. The District of Columbia Board of Elections announced this morning that it had approved a marijuana legalization initiative for signature-gathering. That means voters in the nation's capital could vote to free the weed in November. Now, the DC Cannabis Campaign must gather some 25,000 signatures to qualify for the November ballot. But first, the Board of Elections must finalize the language for the measure. It has 20 days to do so.
Colorado Takes in $2 Million in Marijuana Taxes in First Month of Legalization. The state of Colorado collected $2.01 million in retail marijuana sales and excise taxes in January, the first month of legal sales, the Department of Revenue reported Monday.
Missouri Legalization Bill Gets Committee Hearing. A bill to legalize marijuana in the Show-Me State got a hearing in the House Crime Prevention and Public Safety Committee Monday. House Bill 1659, sponsored by Rep. Chris Kelly (D-Columbia), got a mixed reception in the hearing, with GOP lawmakers expressing skepticism. The committee took no vote and offered no timetable for further action.
Louisiana Marijuana Reform Advocates Rally on Capitol Steps in Baton Rouge. Although there is no legalization bill filed in Louisiana, legalization advocates rallied at the state capitol Monday to get their voices heard. The event was organized by Legalize Louisiana, which seeks to "decriminalize, legalize, and regulate marijuana" in the Bayou State. Although there is no legalization bill this year, there are bills to decriminalize and to allow for medical marijuana.
Legalization Would Be a "Terrible Mistake," Says NYPD Commissioner. NYPD Commissioner Bill Bratton said Tuesday it would be a 'terrible mistake' to legalize marijuana and predicted problems for states that go that course. But he did say he supported medical marijuana.
Medical Marijuana
Dr. Sanjay Gupta Doubles Down for Medical Marijuana; Special Airs Tonight. CNN's Dr. Sanjay Gupta, who first saw the light on medical marijuana a few months ago, has reiterated his support for the herb's medicinal uses and will air a new special on the topic, Weed 2: Cannabis Madness: Dr. Sanjay Gupta Reports," at 10 p.m. ET on tonight.
In New Crackdown, Los Angeles Shutters A Hundred Dispensaries. More than 100 dispensaries have shut down since Los Angeles started enforcing new rules restricting them, City Atty. Mike Feuer announced Monday. In addition to the rules prompting scores of closures, Feuer said city lawyers had successfully fended off a host of legal challenges. In one closely watched case, they prevented a dispensary from opening in Mar Vista, securing a permanent injunction before it could set up shop.
Minnesota Medical Marijuana Bill Stalled By Cops. A key lawmaker said Tuesday she doesn't see a path forward for legalizing medical marijuana after talks with law enforcement hit a standstill. Rep. Carly Melin (DFL-Hibbing) said she had conceded to virtually all demands from law enforcement over the weekend but was still unable to get their support for her bill, House File 1818. Melin said she had no choice but to postpone a House committee hearing that would have been lawmakers' second look at the issue. "Law enforcement won't support any bill that would result in helping any patients," Melin said in an interview with The Associated Press. "The governor has to get involved."
Drug Testing
Georgia Food Stamp Drug Test Bill Passes Senate Committee. A bill that would require food stamp recipients suspected of drug use to pass a drug test to receive benefits narrowly passed out of the Senate Health and Human Services Committee Monday. House Bill 772, sponsored by Rep. Greg Morris (R-Vidalia) has already passed the House. It's not clear if it now goes to another committee or to a Senate floor vote.
Prescription Opioids
West Virginia Senator Manchin Joins Call to Overturn FDA Approval of Zohydro. US Sen. Joe Manchin (D-WV) has joined the call for the FDA to overturn its recent approval of Zohydro, a single-ingredient hydrocodone drug approved for people suffering from chronic pain. It is the first ever single-ingredient drug to be approved by the FDA. Manchion joins Sen. Charles Schumer (D-NY) and a number of legislators, prosecutors, and medical groups seeking to reverse the decision. But the FDA and the drug's manufacturer say the drug is needed to treat chronic pain.
Drug Use
RAND Corporation Report Reviews Past Decade's Drug Use. A new report from the RAND Corporation, What America's Drug Users Spend on Illegal Drugs: 2000-2010, pegs spending on illicit drugs at $100 billion a year. It also notes that from 2000 to 2010, the amount people spent on cocaine dropped by half from $55 billion to $28 billion, reflecting dramatic decreases in the availability of cocaine after 2006: from approximately 300 pure metric tons in 2000 to about 150 pure metric tons in 2010.
International
UN Drugs Meeting Opens after Historic Reforms Shatter Consensus on Drug Control System. The UN Commission on Narcotic Drugs (CND) opens its annual meeting this week after a year of historic reforms. This year's meeting—which is taking place Vienna from March 13-21—is expected to be unusually contentious after a monumental 2013-2014. Unprecedented reforms have shaken the foundations of global drugs policy and set the stage for an explosive international debate. For live updates, check out the CND Blog.
Report Finds UN Stuck in Denial Over Marijuana Regulation. A new report from the Transnational Institute and the Global Drug Policy Observatory has been released in the run-up to the UN Commission on Narcotic Drugs meeting this week. The report, The Rise and Decline of Cannabis Prohibition: the History of Cannabis in the UN drug control system and options for reform, unveils the long and little-known history of cannabis regulation from the late 19th century when it was widely used for medical, ceremonial and social purposes to the post-WWII period when US pressure and a potent mix of moralistic rhetoric and unreliable scientific data succeeded in categorising cannabis as a drug with 'particularly dangerous properties' on a par with heroin in the 1961 Single Convention on Narcotic Drugs. It also brings the history up-to-date with more recent developments as an increasing number of countries have shown discomfort with the treaty regime's strictures through 'soft defections', such as turning a blind eye, decriminalization, coffee shops, cannabis social clubs and generous medical marijuana schemes. These have stretched the legal flexibility of the conventions to sometimes questionable limits. The report outlines specific options for reform and assesses their potential for success. These options include: WHO review and modification of cannabis scheduling; state parties amending the treaties; modifying the conventions 'inter se', e.g. between specific states only; or denunciation of the treaty and re-accession with a reservation (carried out recently by Bolivia in order to defend indigenous rights and the use of coca leaf in its natural form).
ENCOD Calls for UN to End the Drug War. The European Coalition for Just and Effective Drug Policies (ENCOD) will use the UN Commission on Narcotic Drugs this week to call on the UN to end the war on drugs. A delegation of five Encod members will join the debate inside the UN: Urki Goñi, chairman of Cannabis Social Club Urjogaberdea in the Basque Country, Spain, Doug Fine, author of 'Hemp Bound' and 'Too High To Fail: Cannabis & the New Green Economic Revolution', Dionisio Nuñez, Bolivian ex-minister of coca affairs, Janko Belin, Encod chairman and Joep Oomen, Encod coordinator. On Friday March 14 one of them will deliver a speech to the plenary meeting. ENCOD will also be reporting nightly from the sessions later this week on the ENCOD web site.
Legalization Won't Solve World's Drug Problem, UN Drug Chief Says.Yuri Fedotov, head of the UN Office on Drugs and Crime, told reporters Monday that while it is up to member states to decide "what needs to be done," legalization ain't it. "As the head of UNODC, I have to say that legalization is not a solution to the (world's) drug problem," Fedotov said. "It is very hard to say that this law (adopted by Uruguay's parliament) is fully in line with legal provisions of the drug control conventions," he added.
UN Drug Chief Praises Iran Drug Fight Despite Executions. Yuri Fedotov, head of the UN Office on Drugs and Crime, said Monday that Iran's anti-drug efforts were "very impressive" and that Iran "takes a very active role to fight against illicit drugs" even though human rights and harm reduction groups have criticized its frequent resort to the death penalty for drug offenders. Still, he added that UNODC opposes the death penalty and that he planned to raise the issue with Iranian leaders during the UN Commission on Narcotic Drugs meeting in Vienna this week.