Reports are emerging from Mexico that Juan Jose "El Azul" Esparragoza, a key figure in the Sinaloa cartel, has died of natural causes. After the capture of cartel head Joaquin "El Chapo" Guzman by Mexican authorities earlier this year, Esparragoza and Ismael "El Mayo" Zambada were viewed as the effective leaders of the cartel. Now, only Zambada remains.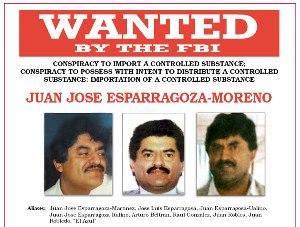 The story was broken Sunday by the Culiacan, Sinaloa-based investigative weekly
Rio Doce
, which cited people close to the Esparragoza family, as well as anonymous police sources. On Monday,
Radio Formula
reported that the Mexican attorney general's office had opened an investigation into "rumors" of his death.
According to Rio Doce, Esparragoza had suffered spinal injuries in an auto accident about two weeks ago and was convalescing in a hospital in either Cuernavaca or Mexico City when he suffered a heart attack while attempting to get out of bed. He was 65. His body was reportedly cremated, with plans to return his ashes to his native Sinaloa.
[Editor's Note: We covered a 2008 conference in Culiacan organized by the folks at Rio Doce. You can read our report here.]
Along with Guzman and Zambada, Esparragoza was part of a generation of Sinaloa narcos who came to dominate the trade across Mexico, including running cartels in Tijuana, Ciudad Juarez, and Guadalajara. Now, Zambada is about the only one left. The rest are dead or behind bars.
Esparragoza was known as a shrewd negotiator, one who could make peace among warring drug trafficking groups. Much of that reputation was based on his years working for the Juarez cartel in the 1990s, the era of famed narco Amado Carillo Fuentes, known as "the Lord of the skies" for his fleet of planes ferrying cocaine from Colombia.
He was also reportedly an efficient corrupter, as good at greasing palms as he was at cooling down hot heads. And he preferred a low profile. While not as well known as some of his more infamous counterparts, Esparragoza was a key player and a deal-maker. This could portend more strife within the Sinaloa cartel.