Forget Amazon's promised drone deliveries; the Mexican cartels have beat them to it. Also, Massachusetts cops will need to do more than just smell weed to search you or your vehicle, Arizona PTSD patients are okayed to use medical marijuana, Uruguay delays the roll-out of its legal marijuana sales, and more. Let's get to it: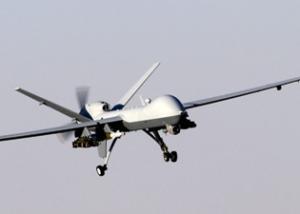 Marijuana Policy
Massachusetts Supreme Court Rules That Smell of Unburnt Marijuana Not Justification for Police Searches. Because Massachusetts has decriminalized the possession of small amounts of marijuana, police cannot use the odor of raw marijuana to justify searches of vehicles or persons, the Supreme Judicial Court ruled Wednesday. The ruling came in a pair of decisions: Commonwealth v. Obermeyer and Commonwealth v. Craan. The court had already ruled that the odor of smoked marijuana was not sufficient cause for a search; now it has included the odor of unburnt marijuana as well.
Missouri Marijuana Lifer in Campaign for Clemency. Sixty-one-year-old Jeff Mizanskey is now in his 21st year of a life-without-parole sentence for non-violent marijuana charges. He wants out, and a campaign to free him as generated nearly half a million signatures on a petition to Gov. Jay Nixon (R). But that hasn't been enough so far. Now, he is asking supporters to write Nixon a letter. Mizanskey has been helped in his campaign by the energetic folks at Show-Me Cannabis, the Missouri-based marijuana reform group.
Montana Initiative to Overturn Medical Marijuana, Block Marijuana Reforms Won't Make Ballot. An initiative that sought to change state law so that no Schedule I drug can be "legally possessed, received, transferred, manufactured, cultivated, trafficked, transported or used in Montana" isn't going to qualify for the ballot, it's proponent conceded Wednesday. Petitioners only managed to gather 12% of the signatures needed to qualify. But Billings car dealer Steve Zabawa isn't giving up; he says he will ask the legislature to pass a referendum next year to put the measure on the 2016 ballot.
Medical Marijuana
Terminally Ill Iowa Cancer Patient Convicted of Growing Own Medicine. A state court jury in Davenport that never heard Benton Mackenzie's medical marijuana defense has convicted the terminally ill cancer patient on four felony drug charges related to growing marijuana to alleviate the symptoms of his disease. The 48-year-old angiosarcoma sufferer now faces a possible mandatory minimum three-year prison sentence, although prosecutors could seek probation.
Arizona Okays Medical Marijuana for PTSD. The Department of Health Services announced Wednesday that it is authorizing the use of marijuana for patients suffering from Post-Traumatic Stress Disorder (PTSD). Its use is not approved for treatment of the condition itself, but only for palliative care of PTSD symptoms.
New Mexico US Attorney Says He Won't Prosecute Medical Marijuana Patients Busted at Border Checkpoints, But Feds Will Still Take Their Medicine. New Mexico US Attorney Damon Martinez has assured New Mexico politicians that he will not prosecute patients caught with medical marijuana at US Customs and Border Patrol checkpoints. Martinez made the vow in a letter Monday to Rep. Bill McCamley (D-Mesilla Park), who had sought assurances. But Customs and Border Patrol officers would still seize the medicine, he warned.
International
Uruguay Delays Marijuana Sales until Next Year. President Jose Mujica said Wednesday that legal marijuana sales are being pushed back to next year because of "practical difficulties" in implementing the new law, and he took a jab at legalization in the US as he did so. "If we want to do this sloppily, it is not hard to do that. That's what the United States is doing," the president said. "But if we want to get this right... we are going to have to do it slowly. We are not just going to say, 'hands off and let the market take care of it,' because if the market is in charge, it is going to seek to sell the greatest possible amount," he said.
DEA Says Mexican Cartels Using Drones to Deliver Drugs Across the Border. The DEA says Mexican drug cartels are using drones to transport drugs and have been doing so since at least 2011. The agency reported that at least 150 drone flights carrying drugs crossed the border in 2012, and that the cartels have recently intensified efforts to recruit skilled workers to manufacture and operate them.
USAID Allots $60 Million for Alternative Development as Part of Fight Against Coca. The US Agency for International Development (USAID) has earmarked $60 million to support farmers planting cocoa and coffee instead of coca. The funds will go to alternative development programs and reforestation projects.
European Union Court Rules Synthetic Cannabinoids Not Medicine. The European Court of Justice ruled today that herbal mixtures containing syntheric cannabinoids aren't medicinal products under European law. The court was responding to a request for clarification from Germany's federal court, which is currently considering two cases involving such products.