Marijuana legalization is unlikely to come to California this year, ditto for Missouri, ditto for medical marijuana in Iowa. Meanwhile, a SWAT reporting bill is moving in Utah, Singapore is censoring a pot reform web site, and more. Let's get to it: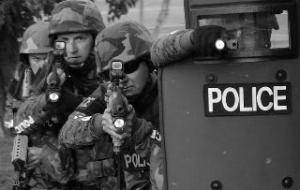 Marijuana Policy
Big Players Will Wait Until 2016 for California Legalization Initiative. The Los Angeles Times reported today that a deep-pocketed marijuana reform coalition including the Drug Policy Alliance had decided not to move forward this year with an initiative to legalize the weed in the Golden State. Instead, the coalition will aim at 2016. That means marijuana legalization will most likely not be on the ballot in California this year. Three other legalization initiatives have been filed, but two of them appear to lack the funds to complete expensive signature gathering efforts -- 504,000 signatures are needed by April 18 -- and the third has yet to be cleared for circulation.
Colorado Judge Denies Injunction in Marijuana Advertising Lawsuit, Suggests Retailers, Not Magazines, Have Standing. A US District Court judge in Colorado has denied a request from High Times and Westword to issue an injunction blocking the state from implementing regulations that limit marijuana advertising in magazines to those who can show that fewer than 30% of their readers are minors. Judge Marcia Krieger suggested the magazines lack standing to bring their lawsuit, writing that "the regulations in question do not address conduct by the Plaintiffs -- who are publishers. Instead, the regulations limit conduct by advertisers -- i.e, retail marijuana establishments. Thus, it is retail marijuana establishments who seek advertising who are directly affected by enforcement of the regulations." Still, Krieger is giving the magazines until March 7 to make further arguments.
Missouri Legalization Activists Decide to Wait for 2016. Citing recent poll numbers showing support for legalization in Missouri at less than 50%, Show-Me Cannabis has announced that "it would be wise to wait for the presidential election in 2016 to launch an initiative campaign." The group said it would continue to work on building public support in the meantime.
Medical Marijuana
Washington House Passes Bill to Tighten Up on Medical Marijuana Under Legalization. The Washington House passed House Bill 2149 on a 67-29 vote Monday. Sponsored by Rep. Eileen Cody (D-Tacoma), the bill would reduce the amount of marijuana and plants a patient could possess, do away with collective gardens, and establish a patient registry. It's part of an effort to "realign" the state's medical marijuana law with the state's marijuana legalization law, but is not popular with patients. Similar legislation is moving in the state Senate.
Minnesota Poll Has Narrowest of Majorities for Medical Marijuana. A Minneapolis Star Tribune Minnesota Poll released Tuesday has support for medical marijuana at 51%, with 41% opposed. It also had 63% opposed to marijuana legalization. A bipartisan group of lawmakers is expected to push for medical marijuana later this month.
Iowa Medical Marijuana Bill Dead on Arrival. State Sen. Joe Bolkcom (D-Iowa City) filed a medical marijuana bill, Senate File 2215, Tuesday, but immediately declared it dead, saying it had received no support from Republican legislators.
Law Enforcement
Utah Bill Would Require SWAT Reporting. A bill that would require Utah law enforcement agencies to report on how and how often they use their SWAT teams has unanimously passed out of the Senate Judiciary, Law Enforcement and Criminal Justice Committee Tuesday. Senate Bill 185 now heads for a Senate floor vote. If the measure passes, Utah would become the second state, after Maryland, to impose such requirements on SWAT teams.
International
Argentine Security Secretary Supports Uruguayan Marijuana Legalization Model. Argentine Security Secretary Sergio Berni has said he supports the Uruguayan model. In a radio interview, he said his "personal" opinion was that he "would agree if the whole chain was decriminalized, from production to consumption" and that "decriminalizing consumption is not effective enough."
Singapore Censors Marijuana Reform Website. Singapore's Media Development Authority (MDA) has told the owners of a marijuana reform website to shut it down by Wednesday. The web site has been shut down, but the companion Singapore Cannabis Awareness Facebook page remains up. The website was found to be "objectionable" by the Central Narcotics Bureau because it "promotes or tends to promote the use of a prohibited substance." Activists in Singapore said they had temporarily unpublished the page "pending a total website review to ensure our website meets the Internet Code of Practice," but they vowed to be back.
Dutch Justice Minister Reiterates Opposition to Legal Marijuana Cultivation. Dutch Justice Minister Ivo Opstelten said Tuesday he remains opposed to legalizing and regulating marijuana cultivation, saying instead that he favored treating it as a crime and a nuisance. This after the mayors of three dozen Dutch cities signaled the want to experiment with legal production in a bid to solve the country's "back door problem," where cannabis cafes are allowed to sell small amounts of marijuana, but have no legal source of supply.